A helpful guide into the world of Tritium watches
Watches which employ tritium luminescence light technology have a distinct style and can generally be found strapped to a certain demographic of user. It is safe to say you will never find tritium on the dial of a Vacheron Constantin, but equally if you bought a Traser you would be justifiably disappointed if the watch didn't sport this innovative light source.
Tritium first appeared on military watches via the Traser H3 P6500, which won a 1989 US Special Forces contract against technical specification MIL-W-46374F. This requirement demanded the introduction of watches with radically new sealed tritium vials in the dial and hands, and a strict 25 millicuries radiation emission level. The P6500 was widely used by the Army and Special Forces, but this new luminescence source really became prominent when a Luminox watch was selected by the US Navy SEALs. Created in the same year that Traser won the military contract, Luminox (in Latin Lumi-Nox, Light-Night), was established to offer high-performance sports watches which offered clear legibility in all light conditions. In 1993 Nick North, head of SEAL equipment procurement, was tasked with finding a rugged watch for night missions. He worked with Luminox to develop a watch specifically for the SEALs – the Military Dive 200m Model 3001 - and after its deployment tritium watches became the go-to tactical unit for many elite forces.
So how do tritium lume tubes work – the science bit!
Long borosilicate glass capillary tubes are coated internally with a luminescent powder. Tritium (H3), an isotope of hydrogen, is pumped into these tubes in gas form. Tritium constantly emits large quantities of electrons. These electrons collide with the luminescent layer on the inside of the glass tube which absorbs the energy released by the electrons and converts it to photons – which are visible light. The large tubes are cut and hermetically sealed by a laser into small micro tubes which will fit onto watch dials and hands (amongst other things). These tubes generally come in the commonly accepted T25 millicurie radiation emission level, however more intense T100 level tubes are available if your country permits the import of such radioactive devices (the UK does). Contrary to urban myths, these watches are not dangerous. Tritium emits a very weak beta particle and people are exposed to small amounts of tritium every day, since it is widely dispersed in the environment and in the food chain.
Note: For the purposes of this feature there should be no confusion with the early Radium and Tritium applied to hands and numerals by companies like Rolex on their Submariners from 1953 onwards. The history of these wonderful vintage lumes, which patina beautifully to the joy of lucky owners, may feature in a future article.
Regular price

$2,766.00 USD

Regular price

Sale price

$2,766.00 USD

Unit price

/ per
Sold out
Regular price

$600.00 USD

Regular price

Sale price

$600.00 USD

Unit price

/ per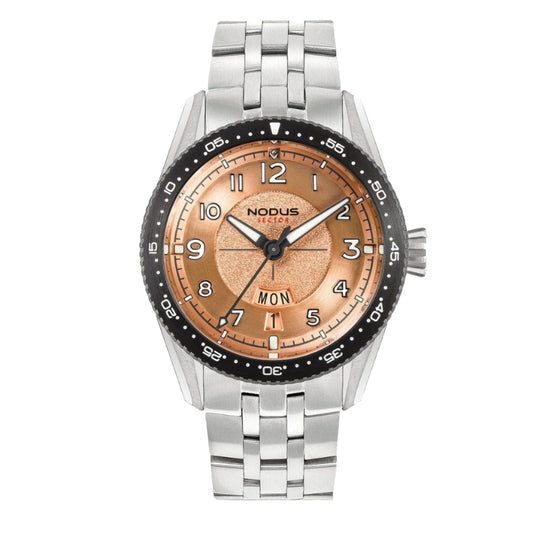 Sold out
Regular price

$2,646.00 USD

Regular price

Sale price

$2,646.00 USD

Unit price

/ per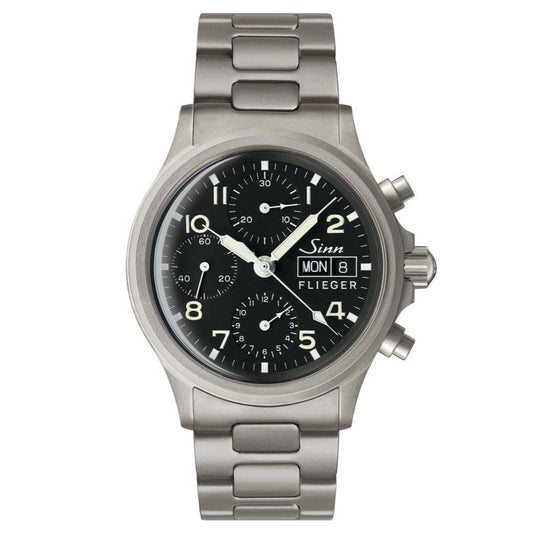 Tritium Vials – Pros and Cons
To be honest there are not many negatives to owning a tritium gas vial watch. One can argue that, in every measurable way, they are superior to traditional painted luminesce such as Super-LumiNova®. The legibility of tritium is superb and unlike standard lume, tritium does not fade through the night. The watch will be as bright at 0500 as it was when you turned the light off at 2200. It also glows with an intensity which standard lume, even the relatively new X1, just cannot match. Another huge plus with tritium is that it does not need to be exposed to natural or artificial light to be fully charged. Tritium is an ongoing chemical reaction, and it is always "on" at full strength. Tritium can also be installed in a myriad of colours if that's a look you desire (although some standard lume models now also offer more than the routine blue and green).
However, despite the overwhelming technical reasons for having tritium, it is not always the right choice. Many years ago, Lacher (LACO) brought out a Flieger model for a major German manufacturing company with tritium vials rather than the traditional lume you would find on a model like the Aachen. The hands and indices on this watch just looked wrong, too high-tech for the 1940s style military watch. Unsurprisingly this design was quickly dropped and has never seen the light of day again.
Also, tactically tritium can have issues. The material was popular in combat pistol sights to give operators good sight acquisition in low light conditions. Weapons manufacturers integrated a tritium vial into the front sight as a dot and two more glowing dots in the rear sight. Tritium watches also became very "trendy" for professional operators (swung by the SEALs) to the point that in the early 2000s almost everyone in operational units seemed to be flashing new Luminox's. The ongoing problem was (is) that these watches really do stand out at night. There is a report from a CT unit being subjected to shockingly accurate and lethal incoming fire when they were stealthily approaching a terrorist camp at night. The CT team were unaware that the hostile camp occupants had purchased rudimentary, commercially available, Gen 1 night vision equipment and the advancing police officers were standing out 100s of meters away as the night vision units picked out their intense tritium watches. The terrorists simply fired in the direction of the glowing dots and decimated the police team. This serves to illustrate that tritium is not always the best solution.
Why own a Tritium Watch?
However, as a civilian there is no good reason not to own a tritium watch. To quote from an old torch manufacturer they are "works of art that work". No matter what your taste in watches there is something wonderful about looking at your collection in low light and one model in particular is glowing so much more brightly than the others. When you look at a tritium vial watch under magnification the suspended glass tubes are a fascinating design element and really add something aesthetically. Most watches with tritium tend to fall into the outdoor or pure tactical genre so they make fine go-to watches which often benefit from polyamide cases, making them super light. Ideal for sports or any leisure activity. They will also probably be military tested, so they are ultra-durable, reliable and waterproof. Most such watches can be bought for well under £500 so the decision to own one is not a major financial hurdle.
Selecting a model on the other hand is tough so here is our guide to a few of the best tritium watches available today.
Marathon Navigator Outdoor/Tactical Watch - £360-380 depending on model
Marathon watches are well known in military and Special Forces circles and lend themselves perfectly to be outdoor watches. Their most recognisable military watch is the Navigator. It has a highly distinctive look, with simple "field" styling and is constructed to current US military specification MIL-PRF-46374G.
The 41mm case is made from a composite fibre material which gives the watch an overall weight of just 40g. Sage Green would be our chosen colour which works well against the black dial and gives the watch a strong outdoor look. With a water resistance of 60m, there is more than enough protection for the ETA F04 High Torque movement. Standard issue to some of the most elite military units in the world, you cannot go wrong with a Navigator.
Traser P96 Outdoor Pioneer - £185-£375 depending on model
The Traser Outdoor Pioneer is a highly capable tritium equipped watch which includes good technical specifications such as a reinforced polyamide case weighing only 60g, K1 mineral crystal, proprietary Trigalight tritium and a water resistance of 200m.
Supreme legibility is key in the overall design of the P96. The watch has a bold 44 mm presence on the wrist which gives a good size dial and in common with all military Trasers the 24-hour indices are located below the 1-12 numbers.
Attention to detail is high. On the P96 Evolution model there is a single ring of green Super-Luminova around the dial of the watch. It has no tactical purpose other than to focus the eye at night, but it looks striking. The date wheel is black to match the face and either side of the H3 logo on the dial are two tiny horizontal tritium vials just conforming which way is up. The P96 is a classic evolution of early military Trasers.
Luminox 3501 Navy SEAL - £379 from Luminox UK
To many, the Luminox 3501, will always be the quintessential tritium watch. You are immediately struck by the stark precision of the white and black contrast of this large 45mm watch and then the eye is drawn to the red second hand, standing out, like a pointer telling you which way to proceed after being dropped behind enemy lines. At the 12 mark the famous Luminox shield logo is the only other splash of colour with its faint red outline.
The 3501 uses blue lume for eleven of the markers and the second hand and orange for the 12 mark, both principle hands and the bezel. In zero light the time is clear, and the colour choice is aesthetically pleasing.
The overall effect is a watch where the time is remarkably easy to read but it does not do it subtly. There is a non-nonsense, zero margin for error, approach to the design of this Luminox which seems akin to the professionals who rely on it. The case is made from Luminox's propriety CARBONOX material. It is ultra-lightweight and creates high-tech timepieces with a very rigid and hard which is anti-allergenic and anti-magnetic with strong chemical resistance.
Marathon Search & Rescue Diver - £800 to £1800 depending on model and specification
The only steel case watch in our tritium selection, the SAR is an off-piste design from Marathon which breaks their traditional mould.
Available in three models: the Government GSAR, Medium MSAR and Tritium TSAR, all models feature the same classic steel dive watch design with some subtle differences.
The GSAR is a 41mm 300m capable professional diver which has been built and tested to ISO 6425. Powered by the M2 automatic calibre (base Selitta SW200) Marathon have upgraded the movement with an enhanced shock resistance mechanism, high torque hands and a redesigned internal cushion system. Dial legibility is achieved through the use if both tritium and MaraGlo lume.
The TSAR is the same 41mm size but powered by an extremely reliable ETA FØ6 quartz movement with a Tritium only dial. This 3 jewel Swiss movement is accurate to -0.3/+0.5 seconds per day and includes an End of Life (EOL) indicator to inform you that a battery change will be needed soon. ETA claim an impressive battery life of over 70 months.
Finally, we have the medium 36mm MSAR. Modelled on the GSAR with the same M2 automatic movement, this smaller contemporary 36mm watch has full Tritium and along with the standard black dial is also available as a striking "Arctic" variant with a white dial. The theory is that a white dial is easier to read in snow bright conditions as you see less perceived reflection, using black syringe hands to stand out against the dial.
In conclusion
Tritium watches – are they any good? The simple answer is yes with the caveat that the watches which utilise tritium are firmly aimed at a particular buyer. Even the less militaristic watches such as the Marathon SAR or the Luminox Atacama still have a very outdoor tool-watch feel. The conclusion is that if you are in the market for a good outdoor watch, whether it be pure tactical or more field orientated, then do consider a tritium dial. The low light performance is excellent and when you have that first glance at your new watch during the night you will definitely wonder why you didn't buy one of earlier.