For people interested in the technical side of watches, one specific area of their construction holds enduring fascination – the subject of ruggedness and the capability to perform in extreme conditions. Few models typify this requirement better than watches selected by military operators. The stresses on military watches are significant, with provisions as wide-reaching as water resistance, surviving high and low temperatures, the ability to take severe knocks and cope with sustained vibration. And all of this whilst displaying supreme legibility and accuracy.
Vertex M100 - Credit WatchGecko
When we think of classic UK military watches post-Dirty Dozen, there is a natural lean towards the 1970s and 80s MOD-approved equipment such as the Cabot Watch Company G10, which historically has been supplied by the thousand to branches of the Armed Forces. Across the Pond, we picture Hamilton and Marathon, who have provided millions of units to US troops post-WW2. Many of the old military watch names are now in the twilight of their deployment. Although CWC still provides some specialist Naval watches, the brand has largely been superseded by more modern Elliot Brown and Casio equipment. Some specialist units even issue Tier 1 brands such as Rolex, Breitling and Tudor.
Elliot Brown Holton - Credit WatchGecko
Indeed, high-end brands like Omega, IWC and JLC have always had a historical place in military circles as part of the Dirty Dozen, and these watches are hugely collectable. The most sought-after piece in this famous collection is the Grana, a unique model of which only an estimated 1000 units were produced. These historical field watches command very high premiums, between £30K and £40K, and thankfully, now enjoy padded box retirements with the noise of battle a distant memory. But what of military watches today in 2023? What models are widely in service?
Omega Dirty Dozen - Credit WatchGecko
Personal Experience
Through an eclectic career, I have been lucky to work with several Special Operations Units. Colleagues in all these organisations take months to select fighting equipment with good reason. Their lives depend on this kit working, and they apply the same philosophy to operational watches. As this subject is my first love, I have always carefully noted what models were being selected and deployed.
The Digital Battlefield
Unsurprisingly, the most common watch I have witnessed in operational life was the indestructible Casio G-Shock in various guises. Whilst these rubber classics will never capture the imagination like a Vertex Dirty Dozen, they are eminently suited to military life, and the advent of analogue Gs makes the brand feel more like a watch and less like a wrist computer.
Casio G-Shock 40th Anniversary - Credit WatchGecko
GS have been of interest to the military since their invention in 1983 when we were first presented with the DW-5000C offering 100m water resistance and indestructible build. It is hardly surprising it was an immediate success. The 5000C typified 80s tech, and the G brand has transcended time ever since. In 2017, Casio celebrated the production of 100 million units! Specialist models are common, and many soldiers began buying privately or from base shops. The UK MOD picked up on this and, appreciating the capability of these watches started an official collaboration with Casio. The UK Army now issues a particular version of the latest MUDMASTER in the form of the Carbon Core GG-B100BA-1AER in tan to match much of their operational equipment. This watch has four sensors, the most relevant to military operations being the highly accurate digital compass. It took only a short time for other services to see the value of the partnership, and the Royal Navy recently introduced a collaborative G-Shock FROGMAN GWF-A1000RN-8AER with aesthetics inspired by the aircraft carrier HMS Queen Elizabeth.
Regular price

$359.00 USD

Regular price

Sale price

$359.00 USD

Unit price

/ per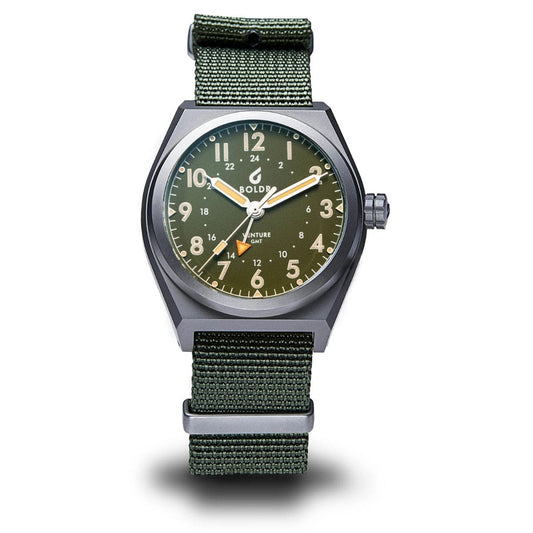 Regular price

$359.00 USD

Regular price

Sale price

$359.00 USD

Unit price

/ per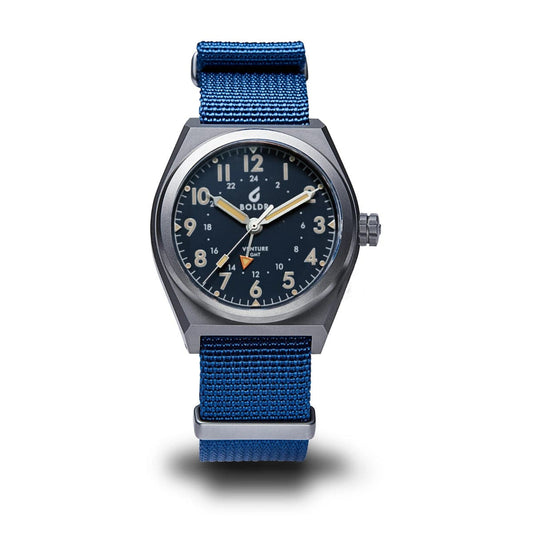 Regular price

$359.00 USD

Regular price

Sale price

$359.00 USD

Unit price

/ per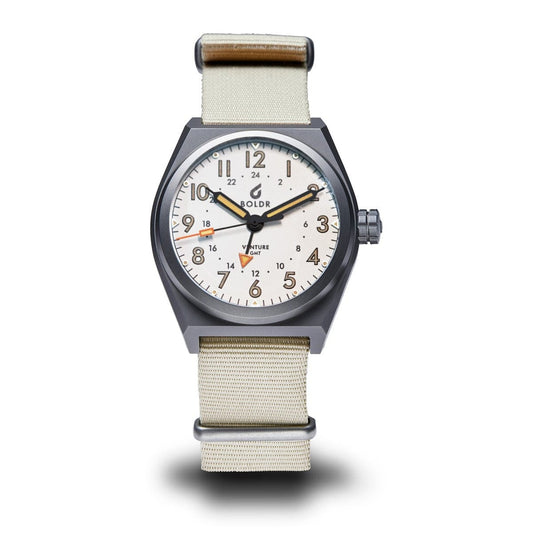 I have discussed the merits of G-Shock selection with many operators, and overwhelmingly, they choose digital models, although new analogue models like the GA-100 are finding favour. They generally select black, tan or green models for obvious reasons, but seldom those with the pseudo-militaristic "blackout" inverted LCD screen models as they are just too difficult to read. Selection justification for G-Shocks has ranged from legendary ruggedness, frugal battery use, recent solar power, sunken-protected screen, 200m water resistance, lack of weight and easy time synchronisation — a veritable catalogue of benefits.
You can also still find a smattering of Suuntos internationally in military service. From a watch perspective, it was a respected brand which became more trendy than Casio thanks to excellent functions on models such as the Vector or Altimax. I owned a Vector for many years, having fallen for the hype. Sadly, it died in the Kalahari Desert. I have no idea what caused the demise, but on the fateful day, it was scorching, and the watch had been subjected to sustained vibration from weapon firing. As the light faded, I noticed the electro-luminescence was on and proved impossible to turn off. I performed a hard reset, but the watch continued to glow, eventually fading and dying. The Suunto never made it home from Africa and was replaced (ironically) by a backup G-Shock G-9100 Gulfman from my rucksack, which still survives today.
Regular price

$570.00 USD

Regular price

Sale price

$570.00 USD

Unit price

/ per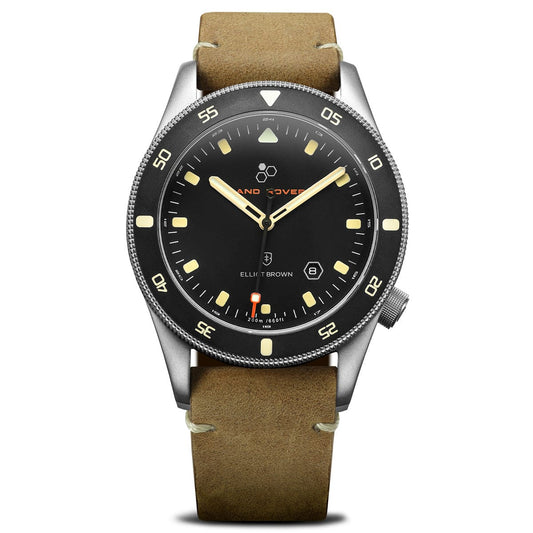 Regular price

$599.00 USD

Regular price

Sale price

$599.00 USD

Unit price

/ per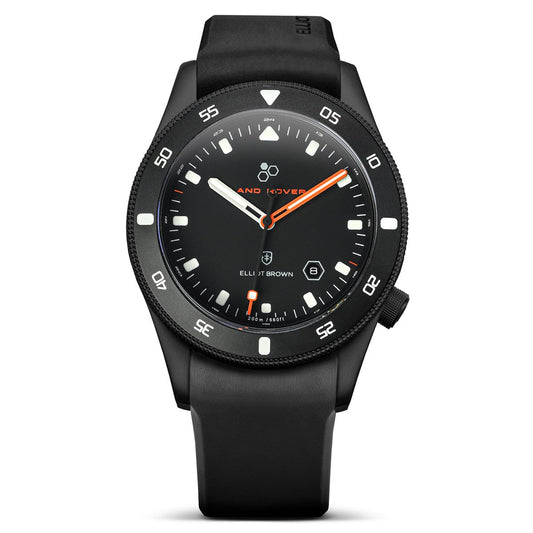 Regular price

$780.00 USD

Regular price

Sale price

$780.00 USD

Unit price

/ per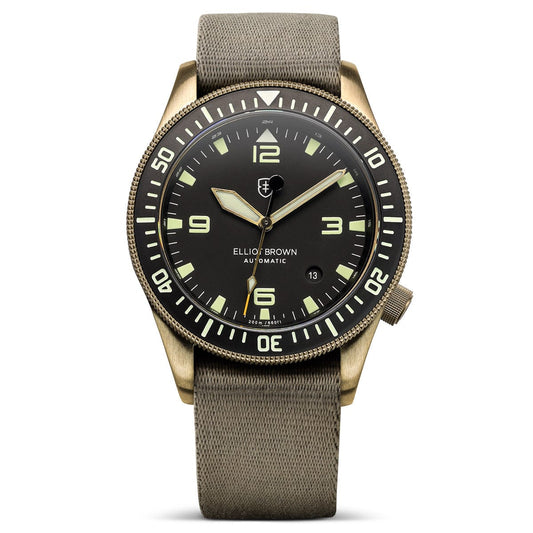 The moral of the story is clear. If you are in the military and want a reliable digital watch – go Casio G!
Analogue Skills
Let's look at analogue watches used by soldiers and law enforcement spec ops. One style has seen significant development, has been issued as standard to elite units, and is commonly deployed. There is no generic name for these models other than loosely calling them tactical, and there are many manufacturers, but the brand leaders are Luminox, Traser and Nite. These three are the Tritium kings.
Luminox 3501 - Credit WatchGecko
Tritium watches have glass tubes of multicoloured tritium gas embedded into the hands and indices. This technology is generally called GTLS, or Gaseous Tritium Light Source. In daylight, the hands and batons look white, but at night, they glow with an intensity far superior to standard luminescence. More importantly, the glow does not diminish through the night, and the illumination is guaranteed to function for around 25 years. All tritium watches have the designation T25 or T100 on the dial. This denotes the millicurie radiation limit of the tritium in the watch. Most countries permit T100-rated watches, but some are restricted to T25 dials, so check before you order internationally online. Both are exceptional, so if you don't want eye-watering illumination beside your bed at night, select T25.
This watch genre is usually bang on to military spec, so consequently well made. They are always water resistant, look great on Military Nylon 1973 straps and are common in the Armed Services. They retail between about £250 for entry-level models like the Traser ODP Evolution and can demand £1000 for top-level examples like the Luminox Master Carbon Navy SEAL. Luminox watches are still synonymous with the US Navy SEALs, with some models bearing their logo on the back of the case. When they were selected in the 1990s, there was nothing to beat them and although the SEALs now have some other watches, the only retired SEAL I know still wears his issue Luminox 3000. The brand has partnered with Bear Grylls recently, proving that Special Forces marketing still resonates. How many of us watch Foxy on SAS Who Dares Wins and consider buying a Bremont?
Luminox Master Carbon - Credit Luminox
Interestingly, all tritium watches, irrespective of brand, stem from an original Traser H3, which won a 1983 US Special Forces contract against military specification MIL-W-46374F. These watches have evolved hugely since the 80s, with the UK company Nite possibly offering the most simple but tasteful selection with diverse models such as steel dive watches with the Alpha and a pure polymer tactical model with the Hawk.
Traser vs Luminox - Credit WatchGecko
This watch style is often very light thanks to the polymer technology used in case and bezel manufacture. These compounds are enormously robust and meet the military specifications for Explosive Ordnance Disposal work, i.e. less metal to trigger magnetic switches on IEDs or underwater mines. Luminox has, for example, even invented its unique recipe of material in CARBONOX, making not only tough but beautiful cases. For civilians, the upshot is super durable watches as light as carbon fibre.
But should you spend more?
The good news about the watches we have discussed here is that they are all relatively affordable. Under £500 will buy you a fabulous example of most of them, and if you want to stretch the budget, then the automatic £1000 Luminox Master Carbon is hard to beat. You can read my review here.
However, if you hang around military units long enough, you see watches at the other end of the spectrum also being deployed. Can an expensive stainless steel tool watch take the same punishment as a G-Shock 1/10th of its price? Of course, it will; however, your cherished Seamaster may look a lot less attractive after a tour of duty. I used to wear a 1990s non-date 14060 Rolex Submariner, no matter what I was doing. A shattered crystal and a hefty repair bill soon had me reaching for a Luminox 3050.
Some units do deploy their troops with extremely high-end equipment. The UK Special Reconnaissance Regiment is known to issue operators with Rolex Explorer IIs, and some of their specially engraved models (ref: 16570) have appeared on the collector's market. One Special Forces unit I met in the Gulf issued members with Rolex Pro-Hunter Submariners. They had big budgets. The UK SAS are issued with Nite MX10 watches, although this is not officially acknowledged.
Conclusion
If you're looking for a modern military watch in service, you will be well served with anything I have mentioned in this feature. Of course, many other choices are not deployed regularly by military units yet are hugely capable. But if you want something combat-proven in recent years, pick either a G-Shock or one of the tritium analogue models and you are mission-ready.