Strap Showcase: One of Seiko's most popular divers shows just how versatile it can be...
Last year one of the many dive watches Seiko released was the Prospex SPB143. This watch has proved an instant hit amongst dive watch fans, mainly thanks to its close resemblance to Seiko's first ever diver, the 62MAS.
I'm a big fan of the watch myself, and if you want to read my in-depth thoughts on the watch you can check out my full review here.
It's iconic Seiko looks mean that the SPB143 will look great on a whole host of different watch straps, and as the watch is still a very popular choice amongst the community, we couldn't resist putting forward our own strap suggestions for the SPB143.
However, before we begin there are a few things you need to bear in mind when choosing straps for the Seiko SPB143:
Obviously, the watch has a monochrome colour scheme, with a black bezel and grey sunburst dial. As the watch is completely devoid of colour, it will look its best on straps that are fairly muted. Any bright colours would stand out like a sore thumb and draw the eye away from the watch itself.
One thing to be aware of when changing the straps is that Seiko dive watches have different spring bars than those used on other watches. They're thicker, with larger 1.1mm tips (compared to the 0.9mm tips found on regular spring bars). Therefore, you'll also need some of our replacement spring bars for diver's watches for some straps. These "Skinny Fat" spring bars are the same thickness as a normal spring bar but have the larger 1.1mm tips to fit Seiko lugs. In addition to those, we also have replacement quick-release springbars with thicker tips for straps with the quick release option.
As a dive watch the Seiko SPB143 is ostensibly a tool. Therefore, it's only fitting that we pair it with straps designed for tool watches, such as Military Nylon and rubber straps. Whilst I'm not a stickler for the rule about not putting a leather strap on a diver, I think the Seiko looks best on straps suited for use on a dive watch.
With that all in mind, let's dive right into the strap options…
ZULUDIVER Modern Tropical Style Rubber Watch Strap in Black
Regular price

$46.00 USD

Regular price

Sale price

$46.00 USD

Unit price

/ per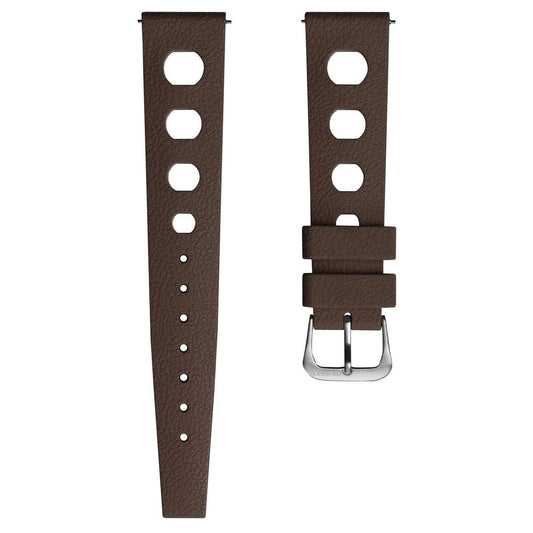 Quick Release
Regular price

$46.00 USD

Regular price

Sale price

$46.00 USD

Unit price

/ per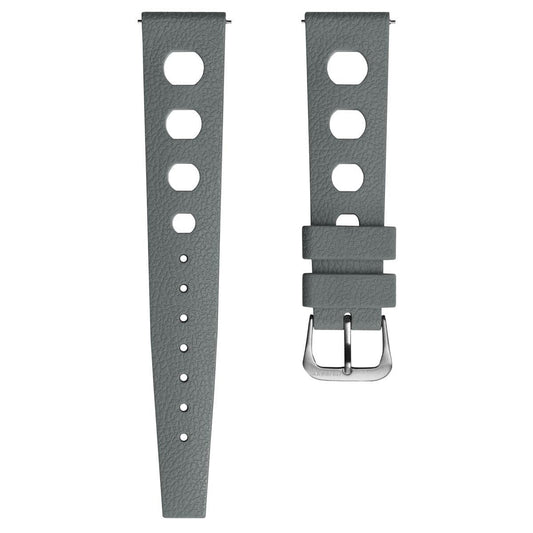 Quick Release
Regular price

$46.00 USD

Regular price

Sale price

$46.00 USD

Unit price

/ per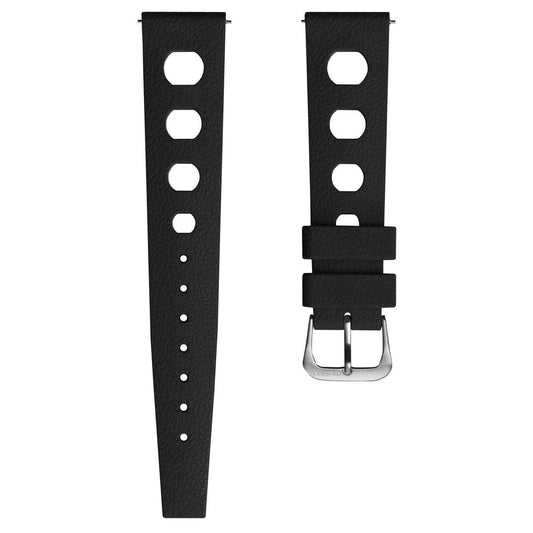 Quick Release
First up is a classic (and admittedly obvious) strap choice: our ZULUDIVER Modern Tropical Strap. This strap is modelled after that classic rubber straps that often came on dive watches in the 1960s, making it the perfect pairing for this vintage-inspired Seiko diver. It comes with quick-release spring bars, and there's the option to choose 1.1mm tips specifically to fit the wider Seiko lug holes. Check out our most popular rubber strap here!
Vintage Watch Company Military Watch Strap by Geckota in Olive Green
For our second choice, I'm going to inject a touch of colour with the Vintage Watch Company Military Watch Strap in olive green. The colour lends the watch a strong military vibe, and the green is dark and muted enough to not detract from the grey sunburst dial. As a diver, the SPB143 looks right at home on a Military Nylon, and the watch looks every inch the tough, practical tool it was meant to be. You can get one for yourself here.
Now that the first two straps are out the way, the rest of the selection will require the "Skinny Fat" dive watch spring bars I mentioned earlier.
ZULUDIVER Seacroft Waffle FKM Rubber Dive Watch Strap in Black
Regular price

$58.00 USD

Regular price

Sale price

$58.00 USD

Unit price

/ per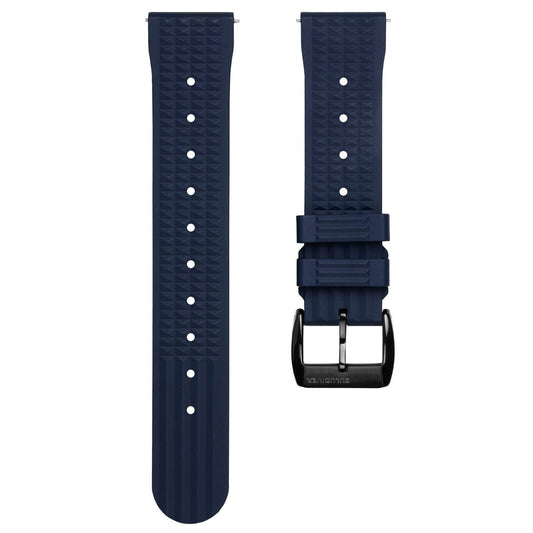 Regular price

$58.00 USD

Regular price

Sale price

$58.00 USD

Unit price

/ per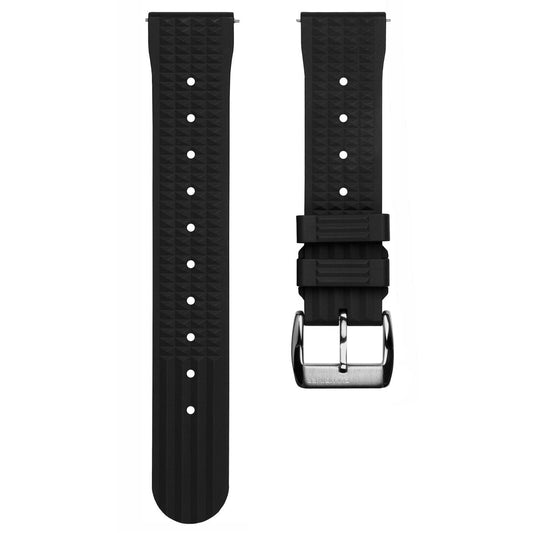 Regular price

$58.00 USD

Regular price

Sale price

$58.00 USD

Unit price

/ per
Another iconic strap choice for the SPB143 is the Seacroft Waffle FKM Rubber Watch Strap. This is actually based off the famous Seiko waffle straps that were supplied on their divers back in the Sixties, so you can't go wrong with this one. The diamond pattern of its surface doesn't distract you from the watch, but rather adds another cool element to the overall package. It's made from FKM rubber, so it's incredibly soft and pliable, whilst also being very resistant to chemicals and UV light. Find out more about the Seacroft here.
ZULUDIVER Quick Release Sailcloth Padded Divers Watch Strap with Grey Stitching
If you're a fan of sailcloth straps then our Padded Sailcloth strap is just what you want. We offer an option with grey stitching that goes perfectly with the grey dial of the SPB143. The strap itself is a slightly dressier option for those wanting to smarten things up without compromising on functionality.
Add it to your cart here.
German Thick 316L Stainless Premium Mesh Watch Strap
Our penultimate strap choice is something a bit different. For anyone after an alternative metal bracelet to the Seiko's brushed oyster, you might want to give our German Thick 316L Stainless Mesh Watch Strap a go. This premium mesh strap is of the highest quality, and its polished surface accentuates the polished chamfers on the Seiko's case, giving the SPB143 a dressier look, whilst still being functional. What's more, the clasp has an impressive 10 micro-adjustment positions, so it should be a piece of cake to get the fit just right. See what makes this mesh strap so special here.
ZULUDIVER 328 Italian Rubber Military Watch Strap in Grey
Last, but by no means least, I put the Seiko SPB143 on a ZULUDIVER 328 Italian Rubber Military Watch Strap. We work with Bonnetto Cinturini to make these, and the rubber is incredibly soft and very comfortable on the wrist. And, like any other Military Nylon, it offers security from spring bar failures. The 328 is available in a wide range of colours, but I paired the SPB143 with the grey option to bring out the colour of the dial.
See the full range of options for the 328 here.
And with that we're at the end of our latest strap showcase! Hopefully, this has given you plenty of ideas for changing up how you wear your Seiko, and if you're considering buying the SPB143 then don't forget to check out our review here.
CLICK HERE to buy the whole set (minus the mesh bracelet) of what we've suggested above, and save over £50!