The nights are dark, and frost or snow is on the ground. Temperatures are dropping, and we are all considering a new look for the coming Season. It is time to crack out your Winter kit, whether to help you on the cold journey to work, make a seasonal fashion statement or make serious preparations for a Winter sports adventure. 
Chances are that your Winter watch choice leans towards a classic tool watch. Maybe stainless steel, perhaps a lighter dial and plenty of lume to help you in the fading light. But what strap matches your watch for the coming cold spell?
Here are some of our best Winter watch strap choices!
ZULUDIVER Endurance Extreme Rubber Watch Strap - £58
Bright red to match your Winter hiking gear. The Endurance Extreme is the toughest strap to take the worst winter weather.
The Extreme combines two of our best strap designs into one Winter-proof design. Our current Endurance strap, a combination of leather and rubber, gave us the perfect platform, allowing us to expand the range to include a weather-resistant sailcloth version. Our team has tested this strap and we are confident that the Endurance Extreme is an ideal strap to withstand the extreme elements of the great outdoors.
Although we have picked the red to create a striking splash for Winter the strap is available in five colours so if you want something more in keeping with the environment, check out the Nimrod Grey.
Regular price

$70.00 USD

Regular price

Sale price

$70.00 USD

Unit price

/ per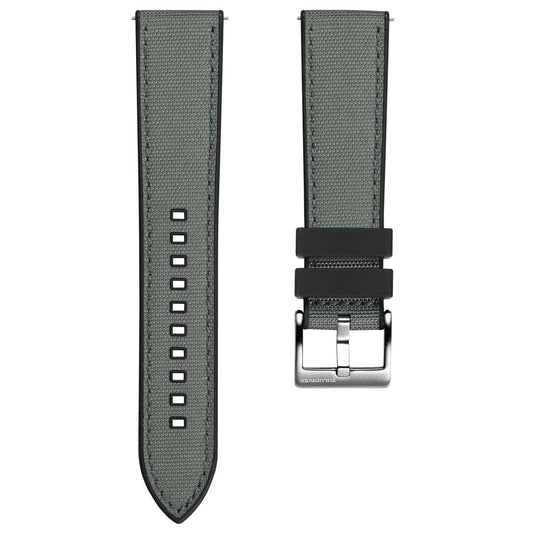 Regular price

$70.00 USD

Regular price

Sale price

$70.00 USD

Unit price

/ per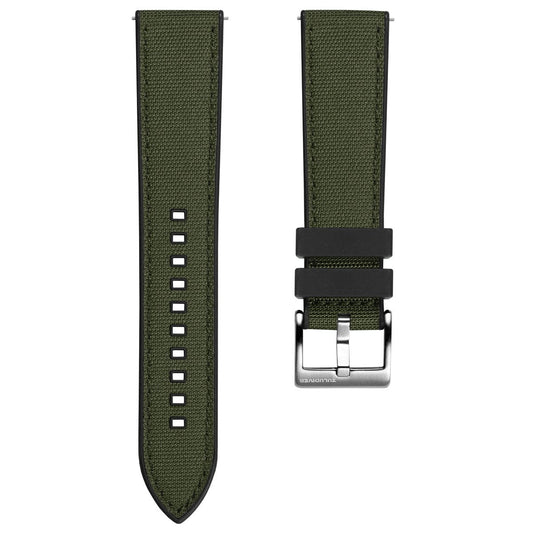 Regular price

$70.00 USD

Regular price

Sale price

$70.00 USD

Unit price

/ per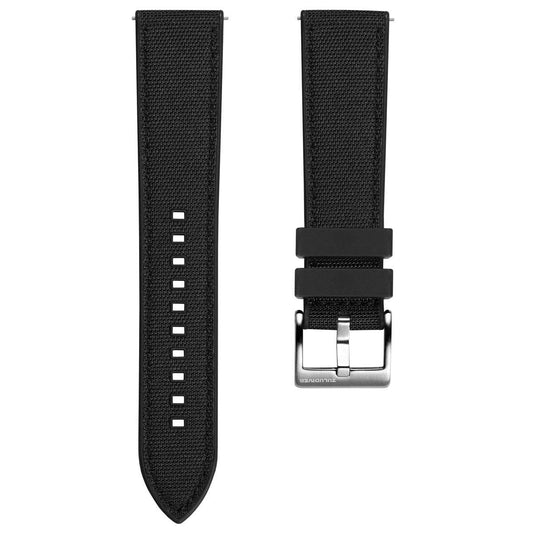 Vintage Highley Genuine Leather Watch Strap - £68
Something warm in colour for Winter and a strap that looks perfect on any steel, titanium or bronze watch. The Vintage Highley is a best seller from the WatchGecko range of leather straps. It's proven to be incredibly popular among customers and retains its shape and lustre even as it ages. Owners have had Vintage Highleys for years and still compliment them on the look and how they have worn in with the watch.
This is a top-quality strap in every way. It is thickly padded (6mm thick at the lug end) and made from the very best Italian vegetable-tanned, full-grain leather. The supple pull-up leather is oiled and will age gracefully, picking up patina as it's worn.
Highleys are STILL handmade and one of the reasons we like this strap for Winter is that it features a cut edge, finished with colour-matched paint for a seamless finish which helps prevent moisture penetration and improve durability.
1973 British Military Watch Strap: HydraRib - £18
A tough military nylon strap is just what we all need for Winter. There is no better choice today than the HydraRib, constructed from high-quality 100% polyamide yarn, using a core-spun method. The durability of these straps has been tested and certified to BS EN 14362. The straps have a three-dimensional, multi-strand appearance, and this inspired the name HydraRib, after the multi-headed creature from Greek mythology.
1973 British Military Watch Strap: 328 MARINE - £68
Dive straps are extremely cold-resistant, so what better winter product than a rubber strap that won't let you down? The ZULUDIVER 328 sets a new standard for resistance. The 1973 classic British design requires no introduction, but this one is made from rubber through cooperation with Bonetto Cinturini.
The 328 is 260mm in length and chemical and salt water resistant. Bonetto Cinturini has been making high-end rubber straps for over 40 years and is an industry expert, using material that stands up well against chemicals, heat and cold. The middle keeper is on a hinge to allow it to pivot slightly, giving a better grip and solid feel on the rubber.
Curved Ends Grey Rubber Watch Strap - Brushed Buckle - £68
If you are in the Arctic, you will have the ultimate tool watch and this strap is the best complementing it. Specifically designed for Rolex-style cases the Curved End is crafted from the finest OEM-grade FKM rubber, which undergoes vulcanization treatment to ensure superior strength and durability. These straps are weatherproof, anti-allergic, and UV-resistant, making them the perfect accessory.
The straps feature a tapered profile and round holes, ensuring a refined finish that matches the quality of your watch. Our hardware includes a 316L stainless steel buckle brushed to match as many cases as possible.
As Winter approaches, any of these straps will bring your watch into Seasonal fashion and deal with the worst the Winter has to throw at it.