A walk in the woods with the Geckota Airstream Gen 2
I keep seeing the phrase 'daily beater' in relation to tool watches. I am not, by any means, light on my watches but I find this an odd description. What do the manufacturers think we do with their equipment? It is certainly descriptive, but - extreme? In the professional firearms world, my historical home, we used a much better phrase - EDC; Every Day Carry. It was applied to all manner of kit that you carried every day (the clue was in the name) be that a pistol, torch or a ruggedised phone case. It was a much sought-after title and in order to be considered EDC, equipment had to be of superior general design and could be utilised in most scenarios without alternation. Of relevance to this feature, EDC was used to describe certain tactical watches that could be used with full tactical gear or plain clothes and not look out of place with either.
The point of this explanation is that having spent a week with the relaunched Geckota Airstream Generation 2, I can safely classify it as EDC. Don't get me wrong, it's most definitely not a tactical watch, but you could wear it all day every day no matter what you are doing.
Regular price

$359.00 USD

Regular price

$539.00 USD

Sale price

$359.00 USD

Unit price

per
Regular price

$299.00 USD

Regular price

$539.00 USD

Sale price

$299.00 USD

Unit price

per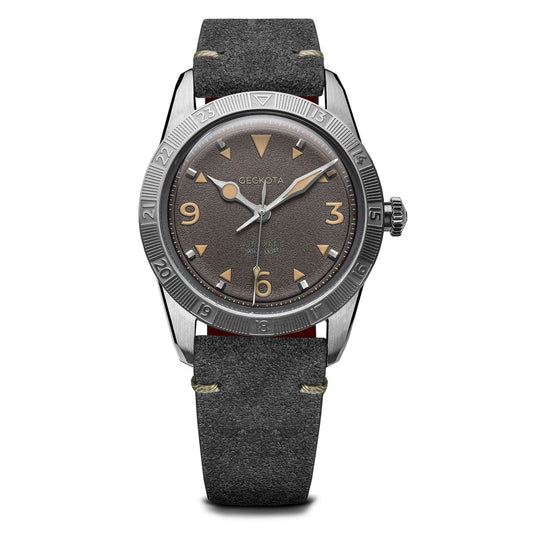 Regular price

$359.00 USD

Regular price

$539.00 USD

Sale price

$359.00 USD

Unit price

per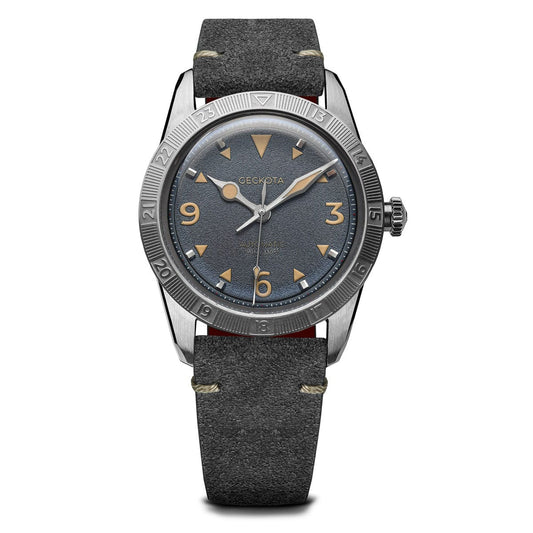 The watch has been in our portfolio for some time but under a different guise. Now re-launched and far better placed it is part of the Airstream range which centres around the classic dial, fixed bezel, and exploration inspired watches.
The Gen 2 is a robust 36mm watch crafted from 316L stainless steel. It offers 100m water resistance which more than meets any outdoor needs. Legibility was key in the Gen 2 and through the double-domed sapphire crystal, you will find a dial that has really been designed without compromise. Vintage patina numerals and hands offer a quintessential old-school exploration look. However, these are modern creations and deliver excellent low light performance with strong luminescence.
The dial is double layered with a terrain texture which brings an added dimension of interest to the watch. The hands are thoroughly unique and allow unmistakable time reading. The bold sword minute hand looks impressive enough to be carried by a Gladiator and is supported by a defined round hour hand. The lume seconds hand is designed to be long enough to reach the minute track for accurate timekeeping. A fixed 24-hour bezel allows for an easy time conversion to make sure that your 23:30 flight is not missed!
The watch is powered by a Miyota 9039 with a smooth sweep and proven performance. This workhorse movement has 24 jewels, a 42-hour power reserve and all-important Parashock capability. Important in a good Field Watch which will inevitably take some knocks.
Currently, the Geckota Airstream Generation 2 comes as standard with our Stanway Suede Leather Watch Strap and all watches are individually serial numbered.
Thoughts on the Gen 2
Not wanting to crease a new leather strap on a test run, I swapped the Stanway for one of my own durable FKM Tropical Rubber straps which lends itself very well to outdoor use (and I can report would make a fine extra purchase along with your Gen 2).
The dial of the watch is the star. The polished raised, applied indices which sit behind the vintage lume hours actually reflect the additional 12 red dots on the rehaut (this can be seen in my wrist shots). The upshot was that information was presented in a super clear manner with absolutely no possibility of misreading the time, even when the rain was battering off the lens. The bold hands and numerals at 3, 6 and 9 conjured up images of possibly the most famous 36mm explorer watch in the world. The prominent crown without shoulder protection made for very easy operation of the watch function and added to the vintage look which was clearly an intention in the overall design of the Gen 2.
There is no question this watch will make an appearance in my top ten possible Field Watches. I had never really worn a Gen 2 before so was very pleasantly surprised by what an excellent field and outdoor watch it made. It has a vintage feel yet all the robustness of a modern watch. It takes strap changes well, looking the part on leather, rubber or even a Military Style Band. It is available with different coloured dials to suit all tastes and at the price point of £349 delivers far more capability than most other contemporary watches. Check out our full collection of Geckota watches here.