The ZULUDIVER sailcloth range has been one of the brand's most popular additions to its portfolio, and the entire range is available here at WatchGecko. Sailcloth straps offer a unique ruggedness and the timeless look of textured fabric, while the reality is that they are made of super tough PVC rubber in either flat or padded variants.
Mayday Anchor Divers Sailcloth  - Credit WatchGecko
Regular price

$58.00 USD

Regular price

Sale price

$58.00 USD

Unit price

/ per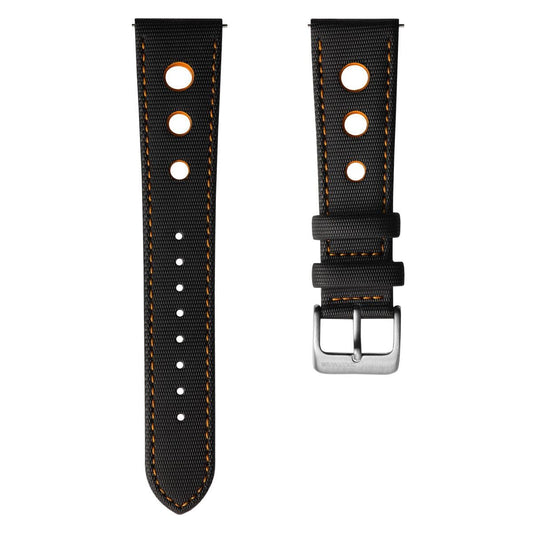 New Quick Release
Regular price

$58.00 USD

Regular price

Sale price

$58.00 USD

Unit price

/ per
New
Regular price

$58.00 USD

Regular price

Sale price

$58.00 USD

Unit price

/ per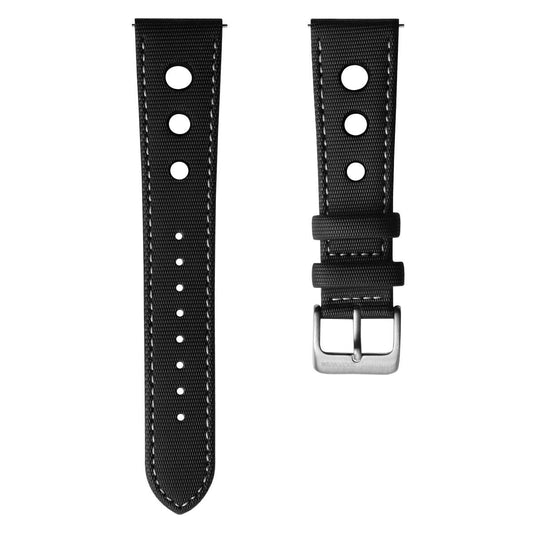 New Quick Release
The build quality of ZD Sailcloth straps is without compromise. The first layer on the latest models is Lorica, which is exceptionally durable, making it the perfect choice for adventurers who seek both fashion and functionality. This vegan and environmentally friendly synthetic material has exceptional breathability, and its lightweight nature ensures that this watch strap remains comfortable throughout the day. Hypoallergenic properties make it suitable for all skin types. The next layer is grey neoprene foam, offering a flexible layer that resists temperature and moisture. Finally, the top layer is robust black abrasion-resistant PVC rubber adorned with an embossed sailcloth pattern.
Mayday Navigator Divers Sailcloth - Credit WatchGecko
Until now, the one thing ZULUDIVER's sailcloth range lacked was bold colour. The brand has dabbled with different tone stitching, but only in 2023 was a decision made to give the top-selling strap range the vibrancy of colour it has always deserved.
With three new variants of the venerable Mayday Sailcloth, WatchGecko is delighted to offer the Anchor, Regatta and Navigator models, each one honouring the timeless original proven design whilst bringing a contemporary colourful twist which can be perfectly offset against dials and GMT hands.
Mayday Regatta Divers Sailcloth - Credit WatchGecko
The Mayday Regatta Divers Sailcloth strap has a classic solid look but is now enhanced with either orange or red backings. Named Sunset or Crimson, these carefully chosen tones have been added to complement as many dials and hand arrangements as possible, from the orange dials of an Omega Planet Ocean to the red 24-hour GMT hand of a Tudor Black Bay. The backings are matched with stitching of the same colour. Priced at £48, this strap will enhance your steel tool watch.
Mayday Anchor Divers Sailcloth - Credit WatchGecko
The Mayday Anchor Divers Sailcloth strap is in a striking new design. Not only does it benefit from the bold colours of the Anchor, but it also has perforations in ascending and descending size. This strap comes in three colours, Crimson and Sunset, as described above, and an off-white silver colour called Shell. This complements all stainless steel cases. Like all the straps, the Anchor is equipped with quick-release spring bars, and the new large perforations give this Sailcloth strap a motorsport look which would be perfect on a red dial TAG Heuer Formula One or even an Omega Speedmaster. Also priced at £48, this strap is as well made as the £500 OEM strap, which you could never quite justify!
Mayday Sailcloth Collection - Credit WatchGecko
The final new edition to the range is called the Navigator. Also available in three colors, this strap has a small cluster of small perforations close to the watch case. These are exceptionally useful in hot climates as they allow moisture trapped under the strap to evaporate, and after diving, they let air circulate to dry your skin. They are a classic nod to watches from the golden age of scuba diving. Like the other Mayday straps, the Navigator is also priced at £48.
These straps come with a high-quality brushed steel ZULUDIVER buckle and two keepers, one fixed and one floating, for optimal comfort. All variants are available in 20mm and 22mm lug widths.
Mayday Sailcloth Collection - Credit WatchGecko
There is no question that Sailcloth straps are popular for a good reason: they genuinely enhance the look of a watch and complement the appearance of many classic dive watches. All look great on a sailcloth, from a Rolex Submariner to a Sea-Dweller or the venerable Seamaster. If you want a superior waterproof two-piece strap for your tool watch, explore the ZULUDIVER range from WatchGecko. Of course, the original Sailcloth strap with black upper and lower is still available however, if your red GMT hand is begging to be matched, try one of these new Mayday straps.