Since wrist watches succeeded their predecessor, the pocket watch, there has always been a plethora of options as to how to attach the watch body to the wrist.
There are generally at least four main attachment categories: leather straps (or bands or belts, as some prefer to refer to them); fabric/nylon straps (more often referred to as NATOs); rubber/silicon; and metal bracelets. For the purpose of this article I will be focusing on the latter option, what is available, the various types and how they differ.
For anyone new to the world of horology a bracelet is just a metal strap, right? Well, yes, in essence, but there are so many designs, many of which have come and gone, some that have gone and since returned to become more en vogue, at least for now, and some that continue to remain popular and fashionable since their inception many decades ago.
Most bracelets are made of a series of links that when interconnected they help follow the contour of the wrist - most are manufactured from 316L stainless steel, titanium or precious metals (specifically gold, silver etc) but you can also find these made of  aluminium and even plastic and available in a number of colours and finishes to compliment the watch body itself. Let's now focus on the primary bracelet designs that are most commonly used in the watch industry today.
The Oyster
One of the most recognisable and popular watch bracelet design, this bracelet is a simple yet very effective and attractive, 3 piece/link design. Developed by Rolex in the late 1940s, it's a popular design amongst countless brands, including of course Rolex themselves. You think Oyster and you automatically think, Submariner or Explorer. Unlike the original design of having an all brushed finish, some manufactures alter the aesthetic by polishing the middle link or, conversely, polishing the outer two links throughout the length of the bracelet, and/or perhaps the ends of the links along the bracelet side, with a contrasting brushed finished centre link remaining.  Again, this effective and simple design remains one of the most preferred and comfortable bracelet designs.
Rolex Explorer - Credit WatchGecko
H-Link
Similar to the 3-link Oyster style is the H Link. This is as good as self explanatory in that the link configuration resembles the letter H. A good example of this is on the bracelet for the Geckota Sea Hunter.
Geckota Seahunter - Credit WatchGecko
Milanese / Mesh
Heralding originally from Italy, the Milanese or mesh, sometimes referred to as shark mesh,  looks a bit like interlocked chain mail that wouldn't look out of place under a knight's shining armour. It's tough yet, in the guise of a watch strap, very smooth and comfortable, mostly because it forms smoothly to the shape of the wrist – although some would argue that due to the complexity of the interwoven steel microlinks, it can be a notorious 'hair puller'. That said most would say these are super comfy.
Regular price

Sale price

$58.00 USD

Unit price

per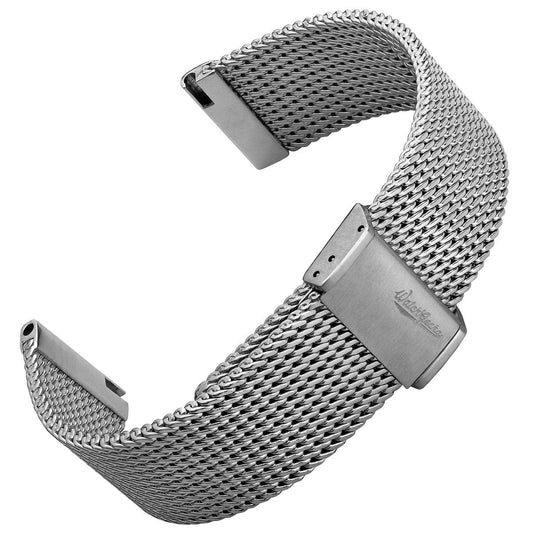 Regular price

Sale price

$58.00 USD

Unit price

per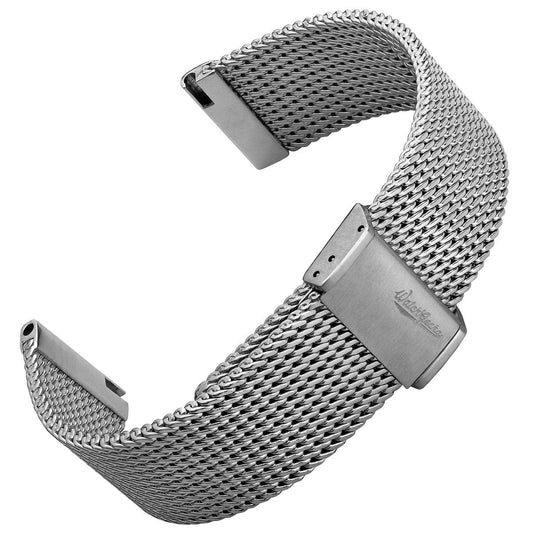 Regular price

Sale price

$82.00 USD

Unit price

per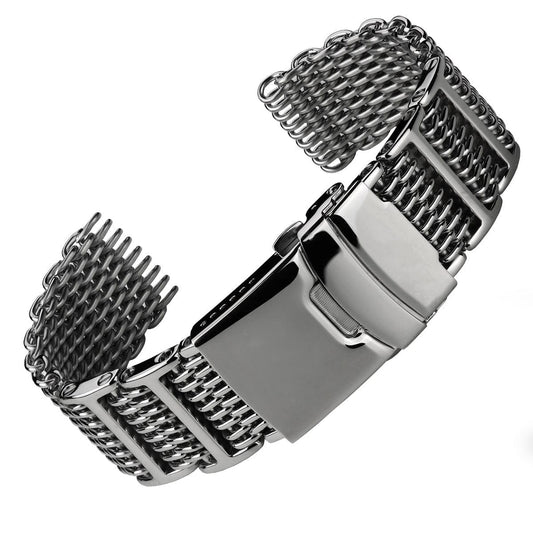 The Jubilee
This is is so named because it was paired with a Rolex Datejust at an alleged jubilee event in 1945 to celebrate Rolex's 40th anniversary. . The Jubilee's outer links are generally given a brushed finish on top, and its three inner links are often polished. This will depend on different designers and manufacturers choosing their own variant of this classic style, of course, but this tends to be the way a Jubilee bracelet is finished. The Jubilee is a favourite of many watch wearers due to its overall comfort, possibly more so than the more common, and arguably tougher, Oyster. 
Rolex Datejust - Credit WatchGecko
Beads-of-Rice
Developed in the 1950s it is now again a very popular design with new models again. Similar to the jubilee it has a design that, as the name implies resembles (polished) beads of rice.
The President
The telltale signature of this bracelet is the semicircular, three-piece link that is synonymous with the Rolex Day Date. The President's nickname came along in 1965 when US President Lyndon B Johnson wore a solid yellow gold Day-Date. It was named this thereafter. Such bracelets fetch significant sums of money on the used market. 
Integrated
The integrated bracket, one that is as one with the watch body, is currently enjoying a huge comeback. Arguably these are full integration or partial (with a 'male' end link attached, eg. the Tissot PRX). Gérard Genta is a designer name synonymous with this style who gave us the iconic Patek Phillipe Nautilus and Audemars Piguet Royal Oak and we're seeing it return again now across the whole watch spectrum, with recent examples being the Christopher Ward C12, the Oris Pro-Pilot X, Tudor North Flag, Czapeck Antartique l, Girard Perregaux Laureato and Bremont H1 plus numerous others across the watch world, and at all price levels, jumping on to the retro bandwagon.
Oris Pro Pilot X - Credit WatchGecko
This 70's vibe design is making a huge comeback and it seems that all brands are quickly scrabbling to release new models with such an integrated style in order to keep up with demand for this new/old trend. The primary downside of an integrated bracelet is that many bracelets can't be swapped out and replaced with alternative strap options but the counter to that is a sleek look and comfortable wear. That said, the likes of the Tissot PRX as an example, have specific leather straps available now.
The Expansion
This style was very popular in the early/middle part of the last century. Links of steel joined together by expanding elastication. Ideal to slip on the wrist quickly but over time this would stretch and be rendered useless or require some careful manipulation to be suitable again - and most definitely another guaranteed hair puller!
The James Bond Omega Seamaster Professional
This famous, trademark 7-piece link features a mix of brushed and polished across the bracelet width but without taper. The underside is usually flat and all brushed and the bracelet and clasp join seamlessly to aid the overall aesthetic. The style is renowned as being silky smooth and very comfortable for most owners/wearers.
Other Seamasters and the sister Aqua Terra models, along with the Railmaster, utilised the tapering Oyster style bracelets.

Omega Railmaster - Credit WatchGecko
After focusing on your preferred bracelet design, there are then numerous ways in which a bracelet is held together and adjusted. The removal and addition of links to a bracelet is often seen as a DIY fiddle but with a decent set of tools, a good eye, suitable light, and steady hands the changing of straps and links can make for a relatively easy and satisfying job.
Yet there are a number of ways links are held together, be it via screwed bars, with a minute screw nut at one, or both, ends; some are just pins that require carefully pushing through using a specialist tool and with a small 'collar, that the pin sits on to maintain the secure fitting. There are a whole number of ways to hold the links in place and securely. The Milanese style usually has a very simple lift up and slide clasp mechanism that makes for a quick and easy adjustable fit with no links as such to adjust or adds/remove which is quite likely why these have become more fashionable again.
Regular price

$22.00 USD

Regular price

Sale price

$22.00 USD

Unit price

/ per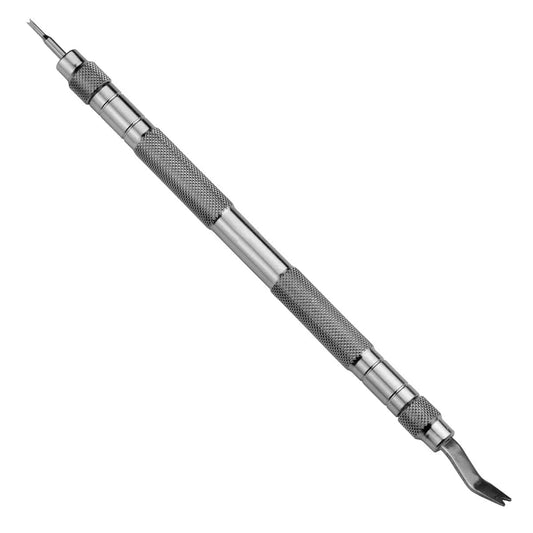 Regular price

$34.00 USD

Regular price

Sale price

$34.00 USD

Unit price

/ per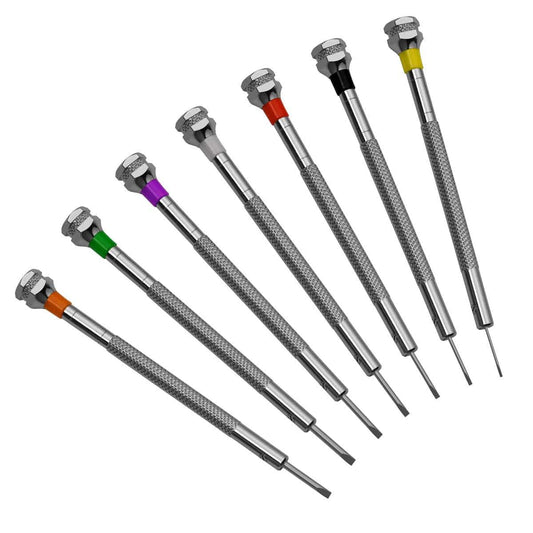 New
Regular price

$34.00 USD

Regular price

Sale price

$34.00 USD

Unit price

/ per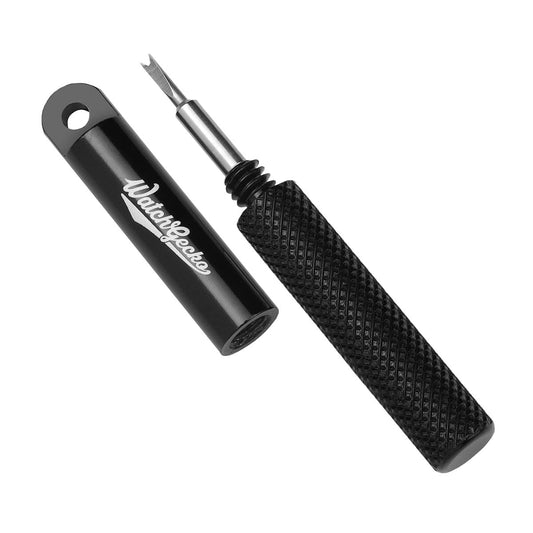 New
Breitling do a clever feature that requires two parallel pins to hold each 'diagonally staggered' link which aids security and overall strength, but one of my favourite methods to allow for link removal is that used by IWC as part of their EasX-CHANGE system. Taking the Pilot model as an example this ingenious micro-engineering system incorporates a clever, recessed button on the flat, inner part of the link on the underside of the bracelet. Using a specialist tool provided, depressing this spring-loaded button allows for the link to be detached/re-attached accordingly. Each link is held by two parallel bars per each of the 5 piece links. A bit of a fiddly procedure that would take time and patience but clever and cool nonetheless.
And then there are the nunumerousypes of buckles and clasps for bracelets: tang buckle, folding clasp deployant, butterfly clasp deployant – and that's clearly for another blog another time. Some brands, like those offered by  Tudor, Formex, Bremont etc, go as far as adding their own proprietary micro-adjust feature to minimise the removal or addition of links and it's not uncommon now to see quick-release mechanisms on detaching the bracelets or straps from the watch head without the use of any tools.
I hope you liked this introduction to watch bracelets
What other bracelet designs do you like – or even, hate?
What is your favourite bracelet?
Do you prefer the leather or nylon method of displaying your timepiece on your wrist?
Please leave a comment down below.
Be sure to check out the large selection of bracelets that WatchGecko have on offer, from full case integration to no integration, Milanese and of course, an abundance of straps a-plenty that are all there to help transform your favourite watch(es) into something new.