Looking for the perfect complement to a brand new watch? Or need a way to liven up an old favourite in your collection? We never cease to be amazed by just how much a strap...
Just like you might consider everything from the style, practicality and cost of the watch you buy, so you should think carefully about the strap you choose to pair it with. That said, we know there's a world of choice out there, so we've put together this guide to buying a watch strap to give you a few pointers.
What different types of watch strap are there?
Let's start with the basics. Whatever style of watch you have, there are a number of different options available to you when it comes to pairing it with a strap. We'll run through five of the most popular types of watch strap here, and suggest which type of watch they might pair best with, as well as running through a few pros and cons of each.
Oblique Mesh on Omega Speedmaster - Credit WatchGecko

Regular price

$106.00 USD

Regular price

Sale price

$106.00 USD

Unit price

/ per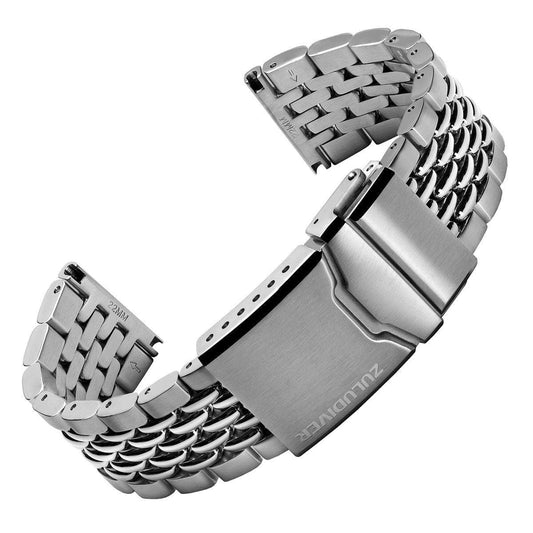 Regular price

$58.00 USD

Regular price

Sale price

$58.00 USD

Unit price

/ per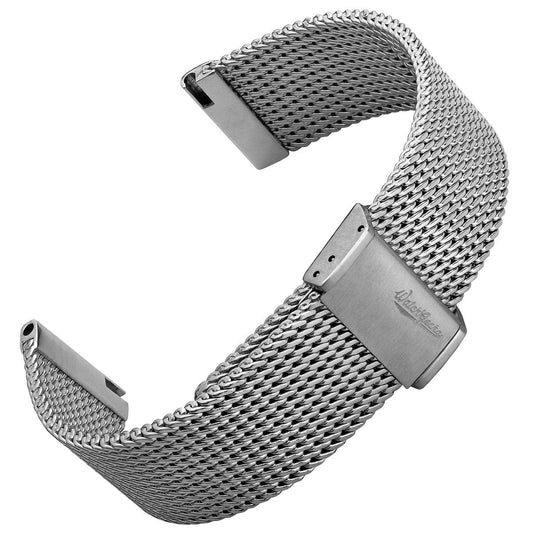 New
Regular price

$118.00 USD

Regular price

Sale price

$118.00 USD

Unit price

/ per
Metal Watch Straps
Also known as 'link straps', metal watch straps come in a range of materials, with stainless steel and titanium being the most popular.
This style of watch strap is typically hard wearing, smart and extremely versatile, making it equally suited to the office as it is to an underwater adventure or an evening out with friends. As such, they pair well with everything from a vintage style timepiece that benefits from a modern twist, to a more sporty style watch such as a dive watch.
This type of watch strap actually has a number of well-known sub categories, with three of the most popular being:
3 LINK OVAL – First created by Rolex for their 'Oyster' model, this style of strap of just three links in width. This makes it even more hardwearing than other metal bracelet watch straps, though it can feel a little stiff.
3 LINK D – Also just three links in width, and also first created by Rolex for their 'President' model, this style uses much shorter links than the £ Link Oval style, which means that it feels more flexible. This can mean it is slightly less durable, though the extra links do add a more formal look.
THE ENGINEER – This watch strap has a more industrial-chic feel, with a five-link width design. These are robust, hardwearing and chunky watch straps that pair well with adventure dive watches.
Omega Railmaster - Credit WatchGecko

One final worth checking that the metal strap you like for your watch will fit the design, as it can be harder to fit a metal strap to a watch than other types of watch strap.
Cost: Metal watch straps are a common sight at the higher end of the market, and it is possible to spend three (and sometimes four) figures on a bracelet style strap, but there are plenty of more affordable, good quality options available as well. For an 'aftermarket' strap (such as many available on the WatchGecko store), you can get the same high quality without paying more than £100.
Browse our collection of metal watch straps to find the perfect complement to your favourite timepiece.
Leather Watch Straps
1980's-Heuer-Skipper-11063V on brown Simple Handmade with red blue stitch - Credit WatchGecko

Regular price

$82.00 USD

Regular price

Sale price

$82.00 USD

Unit price

/ per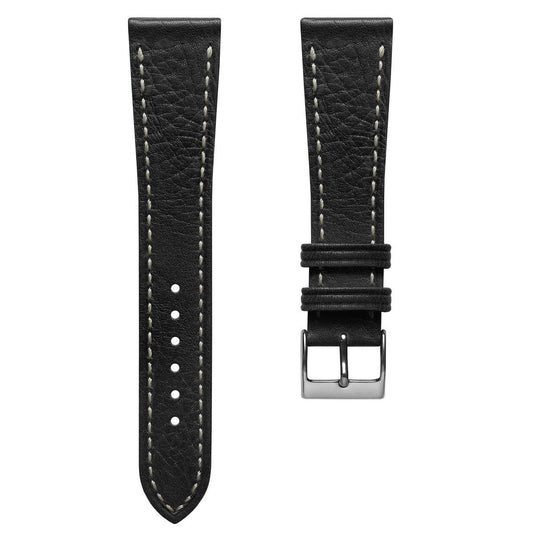 New Hand stitched
Regular price

$82.00 USD

Regular price

Sale price

$82.00 USD

Unit price

/ per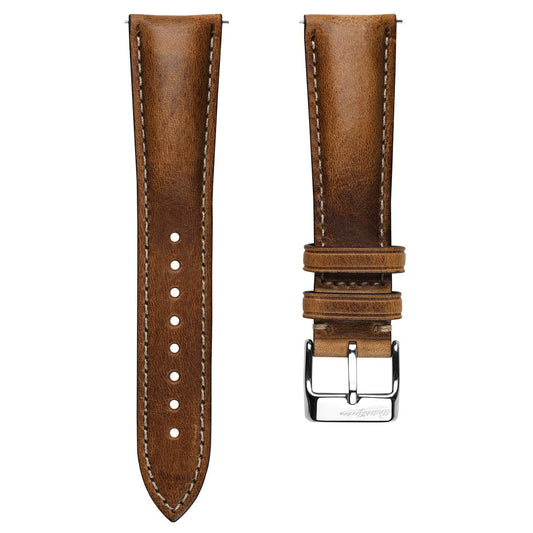 Best Seller
Regular price

$58.00 USD

Regular price

Sale price

$58.00 USD

Unit price

/ per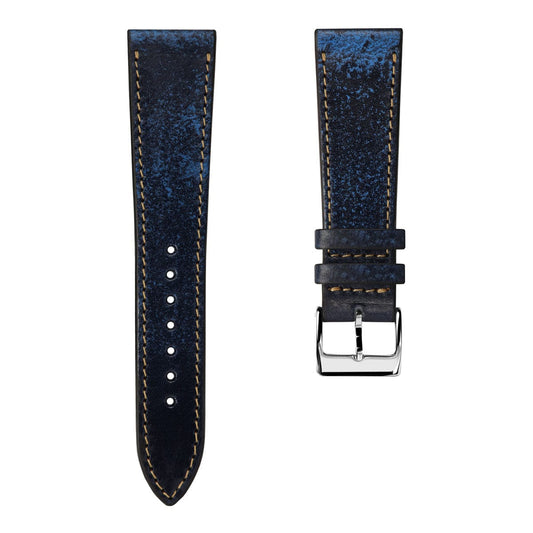 Undoubtedly the most classic material for a watch strap, leather watch straps add a touch of class to whatever timepiece it is paired with. Dress up a favourite daily wearer or give your vintage chronograph the compliment it deserves by finding just the right leather strap.
Depending on how it is crafted, leather comes in a range of colours, from light tan all the way through to deep mahogany brown and black. Leather from different sources also creates different effects: calf leather is known for being soft and smooth against the skin, while something more exotic such as ostrich or crocodile leather will have more texture. As for style, the classic 'no-frills' leather watch strap will always look good, but if you are after something a little different, leather watch straps have a range of different design features. A few of the most popular include:
CONTRAST STITCHING – It's amazing how a simple stitch around the outside of a strap can elevate the look and feel of a strap and complement your outfit. The more contrasting the stitch, the more eye-catching the strap.
RACING STYLE - The original straps for racing watches were perforated to enhance breathability, but the style has stuck and is a popular choice with those looking to give a retro look to their favourite watch.
PADDING - Padded leather watch straps incorporate depth into the design to give a more textured appearance and creates a sporty aesthetic.
Tudor GMT on Vintage Highley - Credit WatchGecko
One final consideration with leather watch straps is that they will require a little care to stay at their best. This should be no more than a light oiling every few months.
Cost: The cost of a leather watch strap depends on a number of factors, including the source of the leather, the tannery it came from and the process used to make it. Rarer materials can be pricey, as can the most exclusive leathers, but it is still possible to find great quality leather watch straps at affordable prices. Our range of leather watchstraps includes everything from unique ostrich leather watch straps, to soft and comfortable calves' leather.
Military Style Watch Straps
Formex Field on ZULUDIVER Vintage Canvas Military - Credit WatchGecko

Regular price

$22.00 USD

Regular price

Sale price

$22.00 USD

Unit price

/ per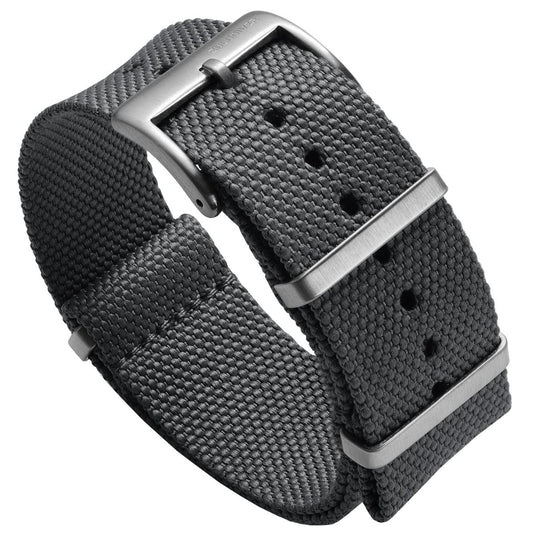 Regular price

$22.00 USD

Regular price

Sale price

$22.00 USD

Unit price

/ per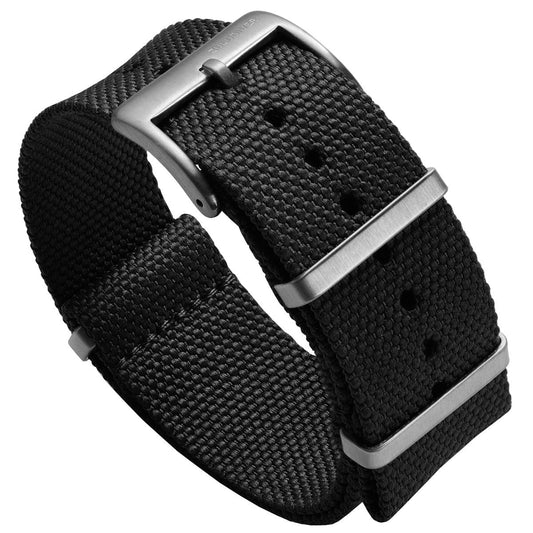 Regular price

$22.00 USD

Regular price

Sale price

$22.00 USD

Unit price

/ per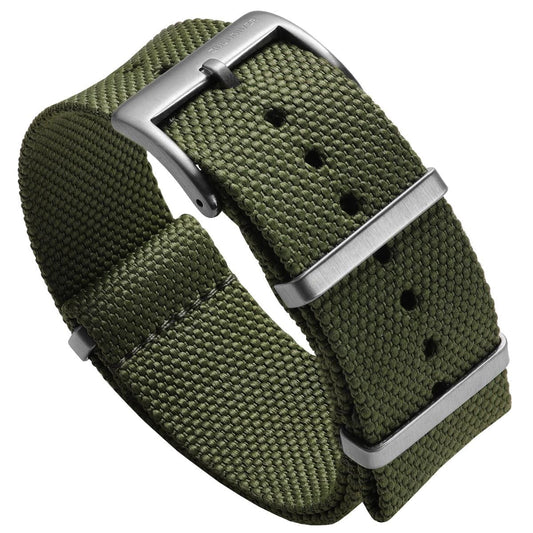 The Military Style watch strap is a direct import from the British Army, who invented it in the 70s in response to the need for a hardwearing, reliable and affordable design. Usually made of nylon, though sometimes found in other materials such as cotton or canvas, the Military Style strap is unique in that it is made of only one piece of material (unlike other watch straps which have two separate parts). This makes it easy to change, as the strap is simply threaded through the spring bars. It also means it is less likely to come undone or come off your wrist, as even if one spring bar breaks, the strap remains on your wrist – so perfect for all action lifestyles. The NATO style strap most naturally lends itself to adventure or military style watches, though don't be surprised to see it on more high-end models as well; James Bond has famously worn a Military style strap in several movies.
For a more detailed breakdown of the history and particulars of Military Style watch straps, see our article: What is a Military Style Watch Strap?
Cost: One huge advantage of Military Style straps is their affordability, with most coming in at a price point that won't break the bank.
Rubber Watch Straps
Boldr on Endurance Extreme Rubber Watch Strap - Credit WatchGecko
Often thought of as the more cost effective option, a rubber watch strap actually has a lot to offer in terms of practicality, and comes in a range of attractive styles these days, all while maintaining its affordable price tag.
Rubber is actually a great option for your daily wearer or sports watch, because its natural impermeability means it won't absorb sweat in the same way that a leather strap might. As with the Military Style straps, rubber watch straps are occasionally seen accompanying extremely high-end watches as well: the ultimate statement of casual wealth.
Cost: A well made rubber watch strap will last a long, long time, and won't cost the earth. If you're looking for good value combined with durability and practicality, these make a great option. 
We have a great collection of affordable rubber watch straps here.
How to Fit Watch Straps
Now we have covered some of the different types of watch straps available to you, let's look at how to fit them to your favourite watch.
This is usually quite a simple process providing you have the right tools and a little patience. We'll go through the process for most watches, then cover a few complications later on.
Seiko Presage on Simple Handmade - Credit WatchGecko
STEP 1: Check the strap is the right lug width
The 'lugs' of your watch are the bits that stick out above and below the dial. The distance between these is referred to as lug width (usually between 18mm to 24mm). Getting this right is important: try and fit a strap with a lug width that is too large and it won't go in; try and fit one that is too small and the watch will slip around on the spring bars. Your watch should say in its specs what the lug width is, but if you don't have this information then you can take a calliper or even a ruler and measure it yourself.
P.S – Don't forget that if you're not sure of the lug width of your watch, you can order a free lug gauge from Watchgecko here, to make absolutely sure that your new strap fits like a dream!
STEP 2: Remove the spring bars
Between the lugs you will find two narrow bars, known as the spring bars. These connect the strap to the watch, and you'll need to remove them to fit your new strap. To do this, use a spring bar remover tool (or a thin piece of metal) to press one of the spring bars into the leg, then gently prise the other side out. Be careful here that the spring bar doesn't jump out – they really are on springs!
Regular price

$22.00 USD

Regular price

Sale price

$22.00 USD

Unit price

/ per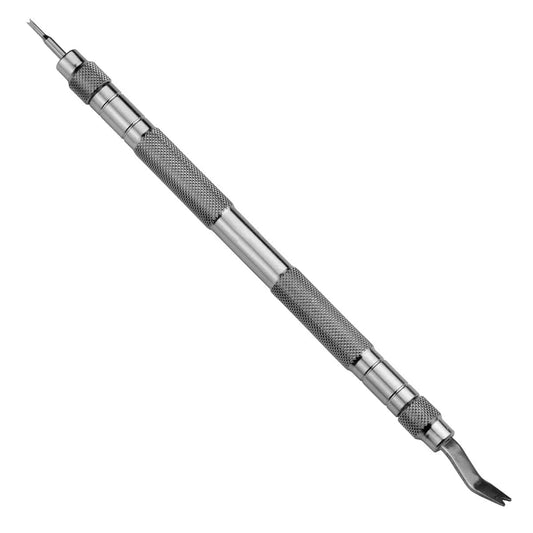 Regular price

$3.00 USD

Regular price

Sale price

$3.00 USD

Unit price

/ per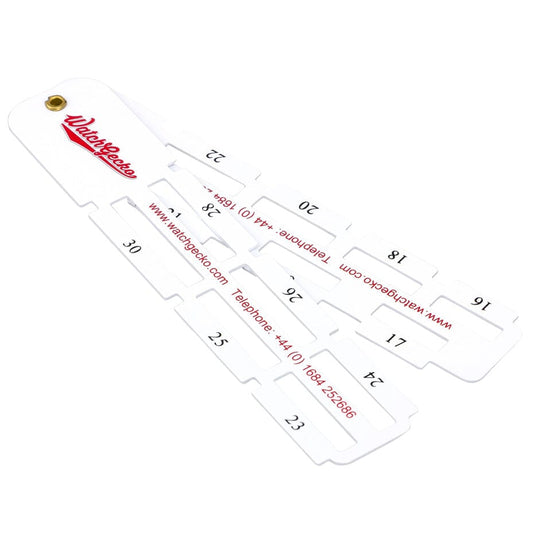 Regular price

$24.00 USD

Regular price

Sale price

$24.00 USD

Unit price

/ per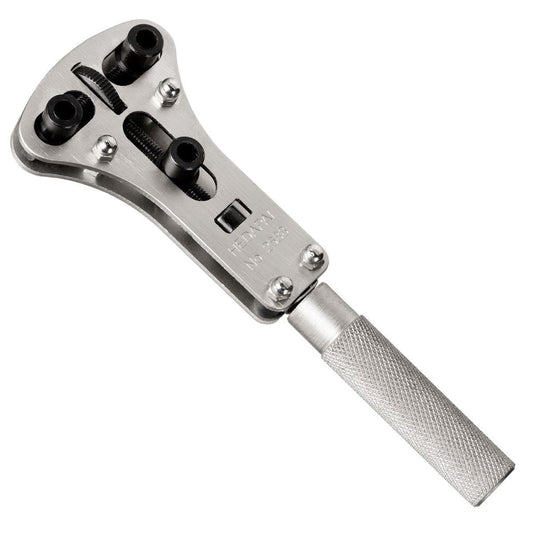 STEP 3: Thread your new strap
If you're removing an old strap, obviously remove this from the spring bars, then thread the bar through the hole in the appropriate hole in your new strap. Most watch straps are actually made up of two pieces – the buckle and the tail – so you'll have to do this for both of these.
Casio Case-Back Removal - Credit WatchGecko
STEP 4: Attach to your watch
Now line one of the spring bars up with the lug and press in until the spring bar is compressed enough that it will fit into both lugs. Line up the other end with the appropriate lug and release. Give the strap a light tug to make sure it feels secure in place. Repeat for the second part of the watch strap.
Important: before doing this make sure that you have the right part of the strap on the right side of the watch, and that each part is the right way up.
Your strap should now be in place and looking great!
A couple of small additions to the above:
Fitting a
Military Style

strap

As mentioned earlier, Military Style watch straps are different to other types of watch strap in that they are made of a single piece of material. This makes them easier (and quicker) to change. Simply thread them around the string bars rather than removing the spring bars.
End links on metal straps
Some metal straps have end links – extra covering that makes it look as though the watch and strap are joined. To remove a watch strap with end links, the same process as above should be followed, though the spring bar may be more difficult to access, and the correct spring bar tool is recommended. One useful tip is to open the watch clasp to give yourself more flexibility before removing the spring bar.
We hope this guide has been useful in helping you find the best strap for your watch. If you have any queries we have not covered in the guide, please do get in touch and we'll be happy to discuss your questions in more detail, or you can have a read through our Online Magazine for more watch-related content.
Watch Buying Guide
Want more information on what to look for when buying a new watch? Head over to Geckota to read our full
watch buying guide
and browse our range of affordable and stylish watches.