In the past, the realm of horology has predominantly catered to men. It was men that had the financial independence to purchase extravagant new timepieces and display them on their wrists as symbols of wealth, status, and education. Women's watches, on the other hand, were somewhat of an afterthought to designers, and it has really only been in the last century that ladies' timepieces became more widely produced.
Despite the obvious delay in women's wrist attire, it was, in fact, a ladies' timepiece that was the world's first wristwatch to be created. According to Breguet, they crafted the world's first watch in 1810 for the Queen of Naples. The commission was made on 8th June 1810 by Abraham-Louis Breguet, who created the sovereign a 'repeater watch for bracelet.' Even after this, however, women rarely wore watches, and it wasn't until the 1920s that watch brands even considered the idea of creating wristwear for women. After the introduction of the quartz movement, the narrative surrounding women's watches largely centered on delicate, quartz-powered designs, while automatic watches, with their intricate mechanisms and craftsmanship, were reserved for men.
We're pleased to say that things have changed in the last decade, and rather dramatically at that. With the growing interest among women in the field of modern watchmaking, luxury watch brands have expanded their offerings of women's watches considerably, particularly those powered by automatic winding movements. That isn't to say there's no room for improvement because there certainly is, but finding a ladies' automatic watch is much easier. Finding one under £1,000, however, is less so. Thankfully, we've done the work for you there…
Regular price

$479.00 USD

Regular price

Sale price

$479.00 USD

Unit price

/ per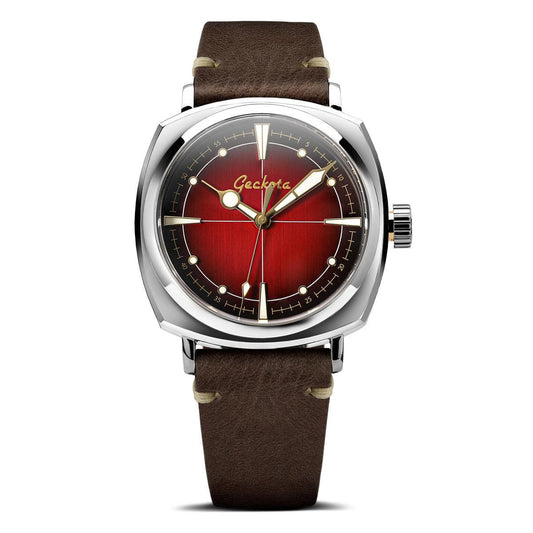 What makes a Good Automatic Ladies' Watch?
Before we start our run-down of our top 10 automatic women's watches, we should first outline exactly what we looked for in each design. Yes, women want something that looks good just as much as men, but we also want something comfortable and functional. Just like men, women also have varying tastes – not all of us want a small, diamond-decorated dress watch - so we've ensured there's a variety of styles for every kind of palate. As for case size, we've stuck below the 40mm mark since the majority of women have smaller wrists than men, but whatever you do, don't let that deter you from experimenting with larger watches in the gents section as well. Most importantly, all of these watches are powered by an automatic winding movement and retail for less than £1,000 – and not a penny more.
Charlotte's Top 10 Ladies' Automatic Watches for Under £1,000
Mondaine Evo2 Automatic 35mm 
Those with a love of clean, minimalistic design will find little fault with the cute and extremely affordable Mondaine Evo2 Automatic 35mm watch. It has a 35mm steel case with squared lugs, leather or Milanese bracelet, and a crisp white dial decorated with Mondaine's iconic red lollipop seconds hand. The Swiss-made automatic winding movement within is the Sellita SW 220-1 with a 38 hours.
Davosa Ternos Diver Medium 
Davosa Ternos Diver Medium - Credit Davosa 
The Davosa Ternos Diver Lady watch is one of those rare small-cased diving watches which offer just as much robustness and reliability as their larger mens-orientated counterparts. We particularly love the Ternos Diver Medium White, which showcases a 200 metre water-resistant rating, white ceramic bezel, 36.5mm steel case, and Superluminova-decorated white dial.
Davosa Ternos Diver Medium - Credit Davosa 
Certina DS Action Lady

Certina DS Action Lady - Credit Certina 
Another diving watch for women that's difficult to beat is the Certina DS Action Lady. Certina's DS, or Double Security concept, ensures decent levels of water and shock protection of the automatic movement inside. Certina DS Action Lady watches typically feature tried-and-tested ETA movements with 80-hour power reserves housed within 34.5mm stainless steel cases. There are also 300 metre water-resistant ratings and dials with mother of pearl and diamonds.
Certina DS Action Lady - Credit Certina 
Hamilton Jazzmaster Viewmatic Lady
Simple and classic, the Hamilton Jazzmaster Viewmatic Lady is one of those timeless automatic women's watches that will easily stay on your wrist for all occasions. It wears nice and low at 10.4mm tall, pairing with a 34mm diameter. The case is stainless steel with sapphire crystal glass and a 50 meter water resistance, while the automatic movement inside provides hours, minutes, seconds, and dates on a range of colorful, sunray-brushed displays.
Frederique Constant Classics Carree Automatic - 
We're harking back to the 1920s now with a rectangular-shaped watch worthy of a Great Gatsby party. The Frederique Constant Classics Carree Automatic watch offers a lot of refinement for its price, including the FC-303 movement built upon a Sellita base, a 38-hour power reserve, a 30.4mm by 33.3mm steel case, and a stunning multi-section dial. The dial is available in silver or blue and features an embossed center and a sunray-finished hour track.
Seiko Presage Cocktail Time Diamond Twist 

Seiko Presage Cocktail Time Diamond Twist - Credit Guest Author
Seiko's Presage collection has long been a destination for men looking for affordable dress watches, and finally, the Japanese watchmaker has expanded the line-up to include some cocktail-inspired women's automatics. The 30.3mm stainless steel cases come with vintage-style rounded box glass and elegantly textured dials with eight diamonds positioned at the hours. Inside, the Seiko Presage Cocktail Time Diamond Twist watches offer the in-house Calibre 2R05 with a 41-hour power reserve.
Fossil Heritage Automatic
I never thought Fossil would be one to break ground with affordable, automatic winding ladies' watches, but they really have impressed with their Fossil Heritage Automatic collection. These watches are seriously pretty, retail under £300, and are fuelled by a 35-hour automatic winding movement. There's plenty of choice in design, too; the 38mm cases come in steel, bi-color, or with full gold plating and offer colorful displays in purple, pink, turquoise, champagne, and silver.
NODUS Unity

Nodus Unity - Credit Nodus
A modestly sized watch with a duo of colorful dial options, the NODUS Unity has made it close to the top spot for a number of reasons. For starters, it's one of only a few affordable automatic women's watches with an exhibition case back, so you can enjoy the Miyota Cal.9015 when the watch is off your wrist. It also has a stunning fluted ceramic bezel colored in the same hue as the dial, extending the display across the 36.5mm diameter. The dial is also beautifully executed, boasting a rare sandwich display with bark-like texture in pastel pink or topaz blue.
Seiko Presage 5 Sports 'Compact'
One of the most affordable automatic women's watches on the market, hence why it's in our number two spot, the Seiko 5 Sports 'Compact' collection is the perfect place for those on a strict budget. At less than £300, you get a neatly-sized 28mm case in plain stainless steel or rose gold PVD, a 100 meter water-resistant rating, and an automatic winding movement with a 41-hour power reserve and a day and date display. Trust us when we say you'll struggle to find a ladies' automatic watch any cheaper than this.
Tissot PRX 35mm Powermatic 80

Tissot PRX Chronograph - Credit Tissot
In first place on our list of ladies' automatic watches under £1,000 is the Tissot PRX 35mm Powermatic 80. It's probably fairly obvious as to why this design reigns supreme. It is an attractive watch, offering a sporty integrated 35mm case and bracelet, and it is powered by one of the best automatic winding movements on the market. The Powermatic 80 caliber boasts an extended 80-hour power reserve and an anti-magnetic Nivachron balance hairspring. There's also scratch-resistant sapphire crystal glass on both the front and back and a 100 meter water resistance.
Do you agree with our opinions, or would you have chosen a different model for your number one spot?
Let us know in the comments below!