A list of the must-have watch tools for the watch obsessed!
There comes a point for every person who collects watches where you suddenly realise you need to add, upgrade or improve the watch tools you have. Initially, when you first get into the hobby, you can survive for a while with a basic spring bar tool. Still, eventually, you'll want to remove a link from a bracelet yourself, try and shift that pin that seems to be stuck, change a battery, or just take a look at that beautiful movement in detail.
Don't worry, though, we're here to give you a helping hand when looking for the best watch tools available. If you're getting into the hobby or looking to better what you already use - we have you covered.
1. A quality springbar tool
Ask anyone who knows a little about watches, and they will advise you to get yourself a spring bar tool. These handy tools are perfect when you want to remove a strap from your watch or change it to something different. Sure, you can pick them up for around £5 online, but this is a false economy. Low-quality models will either end up breaking on you in a short time or slip on you potentially causing damage to your watch.
There are a few watch spring bar tools we would recommend, with each serving a slightly different purpose.
The first is our Professional Spring Bar Tool (1004). With an RRP of £18, this option strikes a fine balance between quality and value for money. A benefit of this tool is that you have a wider fork for leather straps, a thinner one for metal, and a flat-ended piece (useful for attaching metal bracelets back onto the watch). Check it out here.
Next is the
Spring Bar Pin Removal Tool (1058)
. This only has 2 ends (a fork and a pin) however this tool is great for the person on the move. With removable covers on each end, you can throw this in a bag or watch roll without any concerns about the metal ends damaging your watches. It is also smaller in length than the 1004.
Make one yours here!
Finally, we have the king of spring bar tools, the Bergeon spring bar tool 6767-F. This is easily one of the best springbar tools on the market and can last a lifetime. This model has a solid pusher end for drilled lug holes such as you would find on older Rolexes. Bergeon has been creating watch tools for over 200 years with anyone who is anyone working on watches using their tools. The Bergeon 6767-F is £23 and available here) but this level of quality is precise and reassuring.
Professional Spring Bar Tool (1004) - £18
Spring Bar Pin Removal Tool (1058) - £12
Bergeon spring bar tool 6767-F - £23
2. Watch link removal tool
When you pick up a new watch with a metal bracelet, chances are that you will probably have it sized in the boutique to fit perfectly before walking out with a big smile. But with the continued growth of e-commerce sales, your watch could easily arrive and require a little bit of work to remove watch links. You could make your way down to a jeweller to get a link removed, or you could learn a new skill and pick up a link removal tool. The most common configuration of a link removal tool is known as a pin pusher.
This link pins remover is designed so you can lay the bracelet on the tool and turn the handle, which adds pressure to the pin holding the links together. After just a few turns, the pin will have been pushed out entirely and you'll be able to remove the link.
Some bracelets use screws, so they will require screwdrivers (more on those later), but if your bracelet has pins, a watch link removal tool should be in your toolbox.
Tip: you'll know if link pins hold your bracelet together as on the underside of the bracelet, you should see some arrows telling you which direction to push the pin out!
Here are a couple of watch pin removal tools that are extremely handy at getting the job done with ease:
Metal link removal tool - £18
Link removal tool - £12
3. An Eye Loupe
Although a loupe's practical benefits are somewhat limited when compared to the other tools on this list, owning an eye loupe is a must for any prolific watch collector. The obvious benefit of owning a loupe is that it will allow you to get a closer look at the details of your watch. Interested in seeing how raised those hour markers are? Curious to check out how deep a scratch really is on your watch case? Need to get a closer look at a reference number or movement detail? A quality eye loupe is the answer to all of the above!
Naturally, you have a range of options here. To start with there is the Geckota Eye Loupe. This is a solid entry-level loupe if you're starting from nothing and will serve you extremely well.
If you're after something a little more premium that can withstand a knock or two, you'll want to check out the
Premium Geckota Metal Eye Loupe
. As the name suggests, this has a full metal construction along with more choices of magnification. There is also a removable plastic end for the loupe which is based on the design of a rotating dive bezel.
Available with 3x, 5x, 10x and 20x magnification, there is plenty of choice for the serious collector. Check them out for yourself here!
4. Lug width gauge
This tool which can fit into your watch roll is just 125mm long and fashioned in durable white flexible plastic. It can accurately measure any lug width from 16mm to 30mm in 1mm increments (excluding 27mm and 29mm). 
It is invaluable when picking, for example, a new Military Nylon strap. Some manufacturers use non-standard lug widths such as Omega with 21mm and Luminox with 23mm. Using this tool, you can order exactly the right strap.
5. Spring bars
Okay so you have yourself a solid watch collection, but it's about time you get good use out of that fancy new spring bar tool of yours and begin changing straps. For this, you'll need to get yourself some spring bars. You can use the OEM spring bars from the standard strap of your watch if you wish, but I always like keeping the original strap and spring bars together if I'm not wearing them as some brands (like Rolex) have unique spring bars. Some replacement watch straps come with quick release spring bars making everyone's life a little easier, but quite a lot of straps don't, meaning having a good selection of spring bars to hand will be a lifesaver.
There are a few ways to get your hands on spring bars. If you only need a set or two then you can pick up the exact size you need here (make sure you use that lug width tool we just spoke about to get the right size!). Available in bags of three spring bars (in case one goes pinging across the room, we've all been there).
Alternatively, you can
grab yourself a set of 20 spring bars at all widths ranging from 18mm - 22mm here
. This is a great way to stock up on spring bars nice and quickly. If you're someone who owns a range of watches with different lug widths this is a great way to get a head start - all you need now is some shiny new watch straps to match.
Check out our range of impressive, well-priced watch straps here including:
Leather watch straps
Rubber watch straps
Military style watch straps
Metal watch straps
6. Two
 Piece Soft Touch Padded Watch Case
We all love to travel with our watches. Whether it's on holiday or just to let a friend see your new models. This stylish watch case is just what you need, made from a superior quality man-made leather material. Perfect for protecting spare watches on a weekend away.
The strong leather outer offers a high level of protection and is fitted with a zip for secure closure. The soft, padded interior is covered with a velvet-like fabric to protect your watches or spare straps from scratches, and the ample pillow can comfortably hold 2 watches of any size.
A great travel accessory for the discerning watch enthusiast/collector or a thoughtful affordable gift for the watch lover in your life!
Geckota Watch Box - Credit WatchGecko
7. Screwdrivers
A quality set of screwdrivers available here! - Image Credit: WatchGecko Online Magazine 
Regular price

Sale price

$34.00 USD

Unit price

per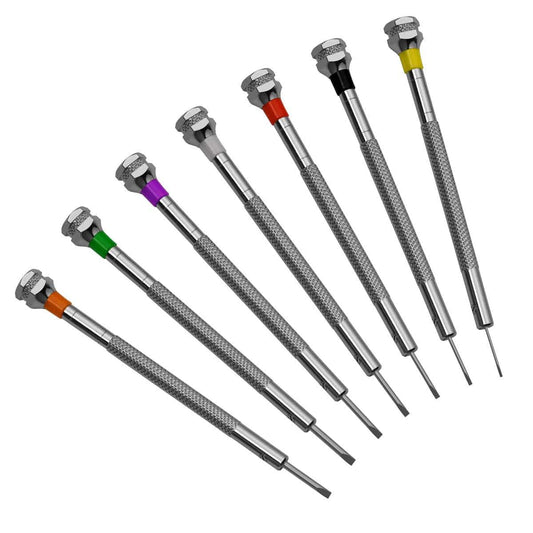 Regular price

Sale price

$10.00 USD

Unit price

per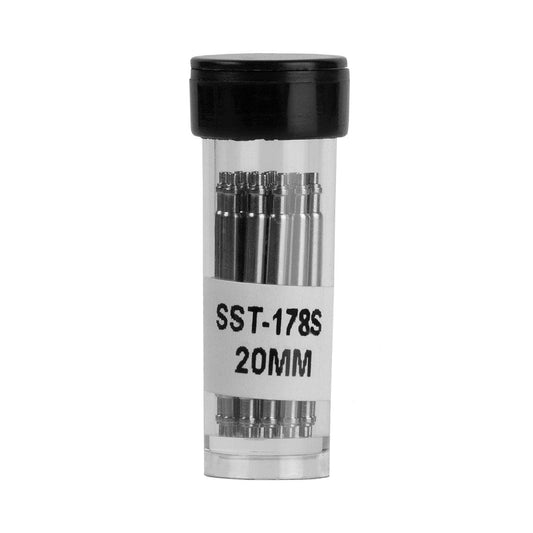 Regular price

Sale price

$34.00 USD

Unit price

per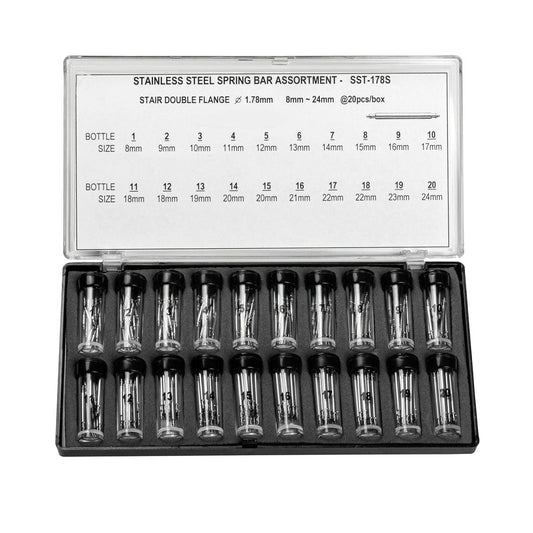 Not necessarily the most essential set of tools but still extremely useful to have,  a good set of screwdrivers can be very handy. Some watches and bracelets use screw links to secure together so if you ever wanted to remove or add a link, you'll need some screwdrivers. Some watch brands also require screws to attach straps to the case such as the Oris Aquis). Also, you may want to change your own batteries and watches like G-Shocks have screw-down case backs. 
When grabbing yourself a set of screwdrivers, like most things on this list there are options. To start with you'll need to decide on the tip size to go for. We've found that 1.6mm and 2.5mm should cover all bases for you. You can of course, go down the Bergeon route, but this can be a pricey one (Bergeon tools can set up back up to three figures), especially if you're starting from zero screwdrivers in the collection.
If you'd rather opt for a screwdriver that isn't going to cost as much as a daily beater watch, we offer well priced (and well made) 1.6mm and 2.5mm sized screwdrivers here for £12 each.
8. Caseback Remover
There are a few options here with the most traditional choice being a case opener like this one seen here. This tool is best used on watches that have notches in their caseback which you will want to line up to the tool. Another solid option is a caseback friction ball. Although this looks like a stress ball on the surface, this is in fact a handy tool for removing screw on casebacks. The benefit here is that you don't use any metal tools so no chance of scratching a watch. This works best on casebacks that have already been off the watch before as tight, factory sealed casebacks will require more elbow grease.
Finally for snapback case backs a caseback knife would be the best way to go as they allow you to get the edge of the knife into where the case and back meet and be able to lift it out. Similarly, this tool can also be useful for things like popping bezels off a watch or even opening deliveries!
Check it out here.
9. Watch Cleaning Cloth
Watch Cleaning Cloth - Credit WatchGecko
This sounds so simple but like everything else in watch-world there is a right and a wrong tool to use. The WatchGecko watch cleaning cloth uses extra-fine microfibers, this soft textile ensures even sensitive surfaces aren't scratched or damaged while wiping away any grease, dust and residue without the need for chemical agents. 
10.PolyWatch
Regular price

Sale price

$5.00 USD

Unit price

per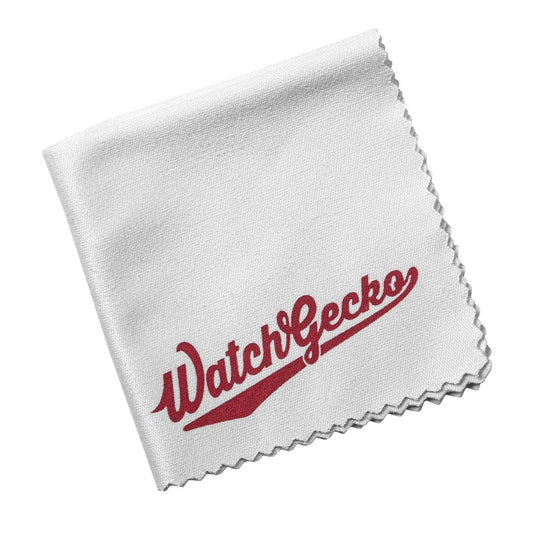 To remove those scratches, grab yourself a tube of Polywatch. The innovative plastic deformation technology, which slightly softens the clear lacquer on the crystal filling in any areas of damage, polishes away scratches and imperfections in seconds.
You won't need to add much to the crystal (a small dab should do), get yourself a soft cloth and slowly spread the Polywatch around the acrylic in a circular motion. Repeat until the less-than-desirable scratches have been removed, and you're winning. Almost essential if you own an Omega Speedmaster Moonwatch with Hesalite! 
Pick up a tube of PolyWatch here.
One final 'nice to have but not essential' suggestion is a UV light. They're a fun tool for those of you who are addicted to lighting up the lume on your watch. They are also great for testing the effectivity of lume on an older pre-owned watch.
To pick up your own set of these tools, you'll next stop will be over to our accessories section, where you'll find a brilliant selection of must-have tools for any watch lover:
Our full range of watch tools is here!