Always keen to illustrate how different watches can look on alternate straps, a plan was hatched by the Magazine staff for one of us to take a single watch on a weekend away and dress it up or down with a broad selection of straps.  The task fell to me, and I noted it had been a while since I had ventured out with only my Explorer. A family break to Anglesey was the perfect opportunity.
The weekend would be a mix of exploring the island, coastal walking and evenings at various drinking holes and eateries. I opted for a total of three straps, leaving the original Rolex Oyster flip-lock bracelet at home.
My selection comprised a ZULUDIVER Kingsand MKII curved end rubber strap, a WatchGecko Vintage Highley Leather in Reddish Brown, and a PHALANX Military Nylon Watch Strap
Anglesey is a wonderful island to explore with breath-taking beaches steeped in ancient druid history, now with the ever-present rumble of BAE Systems Hawk Fighter trainers circling from RAF Valley. There is a great food and surf culture, especially around Rhosneigr and no visit is complete without touring the impressive Beaumaris Castle. What better place to give all my attention to a Rolex Explorer which has accompanied me around the globe several times and now (like myself) enjoys a more relaxed pace of discovery. This 16570 Rolex has spent most of its life on Military style straps and was the basis of my very first WatchGecko Magazine article back in October 2018.
Out and about near the coasts of the Irish Sea, I decided to give the watch a dive look by deploying the relatively new ZULUDIVER Kingsand MKII curved end rubber strap. The finish and fit of this strap around the Explorer case were superb bringing a totally different look to a tool-Rolex like the Explorer II or a Submariner. The strap is made from high-quality durable rubber which becomes extremely supple after prolonged wear and has a smooth flat finish and a moulded, contoured, curve design. The Kingsand is fitted with two floating keepers, with the first keeper being retained if desired by rubber hooks on the strap. It could be attached to the Rolex with standard straight spring bars. The Rolex rubber alternate strap market has been dominated by a few brands for many years. They are good products, and we all know their names and high prices. The ZULUDIVER Kingsand presents a quality option which at just £48 can be fitted for a fraction of the price of the competitive models and totally transforms the look of the watch.
Regular price

$82.00 USD

Regular price

Sale price

$82.00 USD

Unit price

/ per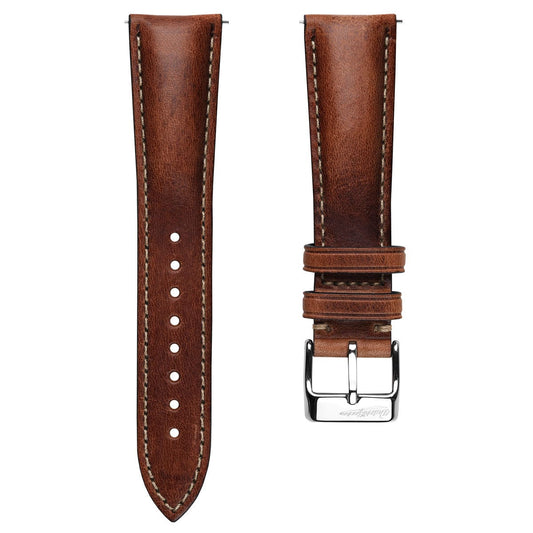 Regular price

$82.00 USD

Regular price

Sale price

$82.00 USD

Unit price

/ per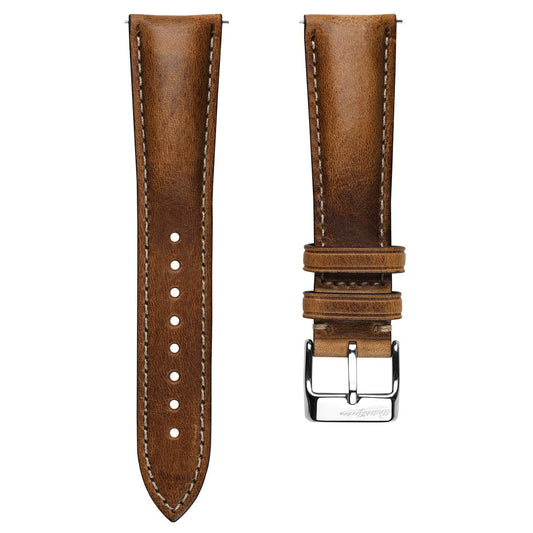 Best Seller
Evenings on Anglesey tend to be spent at traditional seaside towns in ancient pubs or trendy wine bars and restaurants. Feeling the need to dress the Rolex up a little and being a fan of Sean Connery's Rolex-on-leather look in Dr No, I opted for a WatchGecko classic and best seller – the Vintage Highley in Reddish Brown. At £58 this is leaning towards the more expensive of our straps but when you see the result it is absolutely worth the money. The addition of a slightly distressed leather strap to such a watch radically changes the look once again to that of a high-end adventure watch with a distinctly dual-purpose dress angle.
The current iteration of the Vintage Highley is our best yet. Luxuriously padded (6mm thick at the lug end) and made from the finest vegetable-tanned, full-grain leather the strap is oiled and will age with grace, picking up patina as it's worn. As your treasured Rolex matures so does the strap. The Highley features a cut and sealed edge, finished with colour-matched paint to help prevent moisture penetration and improve durability.
The range uses certified vegetable-tanned, full-grain Italian leather produced by a member of the Consorzio Vera Pelle Italiana Conciata al Vegetale. This consortium of tanneries in Tuscany exclusively uses natural plant-derived tannins and centuries-old techniques to create quality controlled sustainable leathers.  The Highley also incorporates quick-release spring bars for easy strap changes avoiding those irritating little scratches around inner lug holes.
Another relatively new strap brings the showcase to a satisfying conclusion. Yes, it had to be in there – a Military style strap and simply one of the best. This became my go-to for days out exploring the island. The Vintage Bond style has been at the backbone of our fabric collections for many years and now the Phalanx name is established, we have re-branded some of our most robust Military style straps under that name. Only straps with a suitable story ethos and technically the toughest weaves make it through Phalanx selection, and they have quickly become a favourite for Rolex owners. This variant bears a striking similarity to the strap Bond wore on many adventures in his formative cinema years and the Phalanx Military Vintage Bond compliments the quintessential Rolex-on-a-mission look.
At just £18, the Phalanx is a very cost-effective way to fundamentally change the look of a Rolex (or Omega, or any watch you feel has a Bond angle). The price belays the very high quality of this strap which is a derivative of the original ZULUDIVER 141; created without compromise, to endure the most extreme conditions and environments. Made from specially woven nylon these straps pay homage to the original G1098 design and will resist salt water and mud, washing easily to their original condition and drying quickly.
Phalanx straps have been thoroughly field tested and come in a range of subdued colours, each one representing a different theatre of operation.
Thoughts on the journey home…
It has been a fun exercise to travel again with just one watch. I've got out of the habit of doing this and often have a few models slotted into my watch roll. However, taking one watch and several strap options has really highlighted to me how vastly different you can make one watch look and how much lighter you can travel!
Whatever your choice, do not be afraid to change the look of your Rolex Explorer, or another treasured model, and most importantly have fun re-dressing that watch for any occasion.