Getting hands-on with a watch that has direct military linkage is always interesting. Most of the time, it's because a specific unit has deployed with the watch, whether modern or historical. However, if you can access a model that a UK Specialist Unit has designed from the ground up, it's quite exciting.
Such is the case with the respected British brand Elliot Brown, specifically their UK MOD military issue Holton model.
Elliot Brown Holton Automatic 101-A11 - Credit WatchGecko
Throughout their advertising material, Elliot Brown is at pains not to name the unit that had a direct hand in the design of this watch. Much as we think we know who it is we'll respect what is clearly confidential and refrain from speculating.
Elliot Brown openly states that a life aquatic is paramount to the unit in question who were getting frustrated with the technical deficiencies of standard-issue watches. Regular technical problems were strap erosion, water ingress, poor luminescence in low light and underwater and awkward bezels. 
Elliot Brown Holton Automatic 101-A11 - Credit WatchGecko
The solution from Elliot Brown was the Holton Professional, whose design successfully married the look of iconic military watches of old with a thoroughly contemporary, mission-ready, new watch. The Holton range was an immediate success and spawned various offshoots, each one offering a different capability to the original watch. I had on test the HOLTON AUTOMATIC: 101-A11 priced at £650, arguably the pinnacle of evolution in this series.
Now I'll be honest, despite extensive exposure to military watches, I had never worn an Elliot Brown before, so this was a new experience. I have worked with many watches that looked a bit like Elliot Browns because military watches often follow similar design specs, but other than a glance at the office, this was my first real exposure.
Elliot Brown Holton Automatic 101-A11 - Credit WatchGecko
Hands-on with Genuine Military Kit
First impressions are important, and immediately handling the Holton, one is left with an overwhelming sensation of solidity and ruggedness. The watch feels "tight"; like nothing will ever rattle on it. It is solid without being overly heavy, and nothing protrudes where you would typically expect it to. I would draw a professional parallel to some of the finest combat handguns I've used, where a similar design ethos has been employed. You can tell when a product has been crafted without compromise, for maximum operational effectiveness in the field.
Regular price

$570.00 USD

Regular price

Sale price

$570.00 USD

Unit price

/ per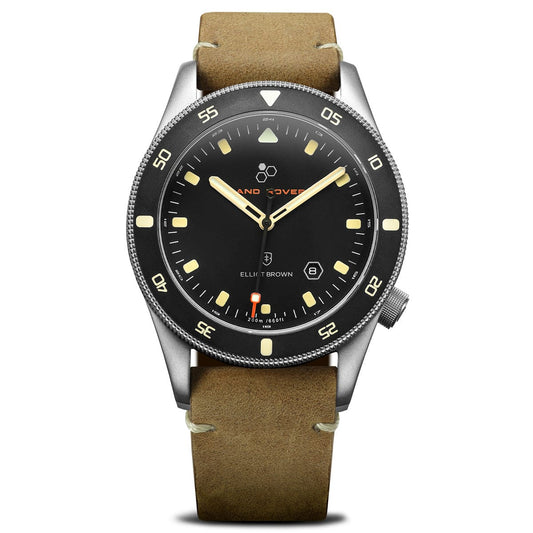 Regular price

$780.00 USD

Regular price

Sale price

$780.00 USD

Unit price

/ per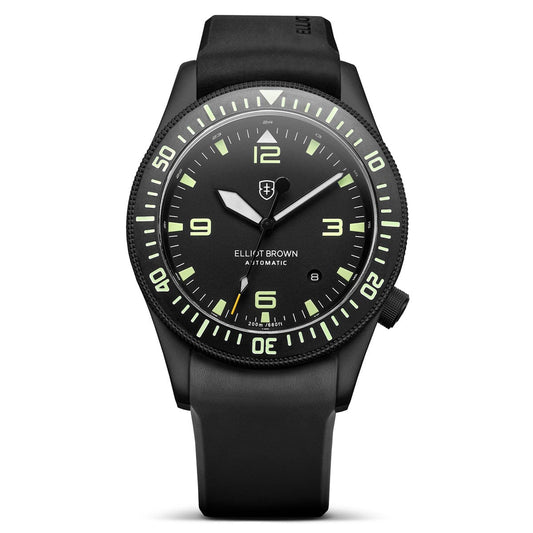 Regular price

$780.00 USD

Regular price

Sale price

$780.00 USD

Unit price

/ per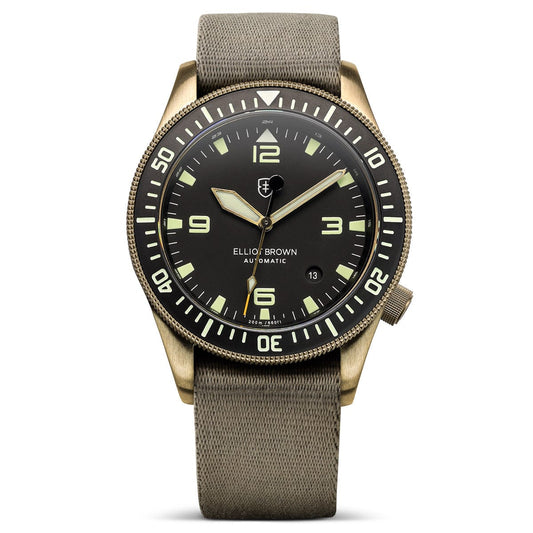 Classic Military Black Dial
The dial is clear with superb legibility. Generous luminescence blocks at every indice ensure no difficulty telling the time. The minute and hour hands are fundamentally different, so there is zero chance of mixing these up. The seconds hand has a bright orange needlepoint to draw the eye while the counterbalance has been blacked out (exactly the same colour as the dial), so you are not distracted by it. The dial is a matte black finish with minimal writing, and you can see it has been expertly designed, or at a minimum influenced, by professional military operators.
Elliot Brown Holton Automatic 101-A11 - Credit WatchGecko
Perfect Bezel
The first design element that caught my attention was the bezel. My first impression was how low it was. Would gripping be a problem? It proved to be the complete opposite - this is by far one of the best bezels I have been lucky enough to test. It carries the theme of supreme legibility with prominent minute markers across the entire circumference which are hollowed out and deep filled with SuperLuminova C3. Interestingly, when compared to competitor models such as Luminox, the use of tritium tubes was explicitly ruled out by the end user for being too visible when viewed through any kind of night vision equipment.
The ring is precisely the same diameter as the case, with not a millimetre of overlap, and was designed to be turned by gripping the edge or pressing downwards on the top with a gloved hand. Rather than being awkward, it proved to be very intuitive, and it is easy to see in a hostile environment how effective it could be. Indeed, I wonder why more bezels are not made this way.
Elliot Brown Holton Automatic 101-A11 - Credit WatchGecko
King of Crowns
The screw-down crown is located at 4 o'clock. Not an unusual location for the crown on a professional military watch, but what separates the Holton from the others is that the crown is deeply recessed into the case when fully closed to minimise the chance of it being caught or damaged. Just enough is left protruding to get a good grip when required, but the fact that the crown half disappears into the case is an excellent design feature. This unit seals the watch to 200 meters capability and, in their PR material, Elliot Brown uses the word "waterproof"! Not a technical promise you see every day in the watch industry; however, given the construction parameters of the Holton, I would say this is most likely an accurate assessment.
Even the 2mm thick sapphire with multi-layer anti-reflective coating must prove its worth. The company subjects every crystal to an impact from a 3 x 17mm ball bearing dropped from a height of 500mm. To pass muster, the crystal must show no signs of damage.
Who Needs Spring Bars?
Fixed strap bars are the most solid way to attach a strap to your watch; however, if they are integrated into the case, as we see with the Tudor Pelagos FXD, it hugely restricts what after-market straps you can use. Taking inspiration from vintage fixed bars, Elliot Brown has used solid steel bars that thread directly into the case, which provide the same strength as fixed but can be unscrewed with the use of a bespoke screwdriver, thus enabling the strap changes we all enjoy.
Elliot Brown Holton Automatic 101-A11 - Credit WatchGecko
Attaching Your Kit
The Holton comes as standard with a superior quality rubber strap which hugs the side of the case; however I found it a little short. I had to wear it in the last hole, so I swapped out the OEM strap during my test and used three military nylon straps instead. There is nothing wrong with the original strap, but I don't consider myself to have a particularly big wrist, so it's something to bear in mind if you consider a Holton. I did ask Elliot Brown about the short strap and they were keen to point out that a deployant rubber variant is also available if you find the version I had a little snug.
I took three straps from our own military collection, all of which looked great on the Holton. The ZULUDIVER British Military Watch Strap CADET in Desert Sand, the ZULUDIVER British Military Watch Strap ARMOURED in the exciting No Time Bond Sandblasted finish and finally a new ZULUDIVER British Military Watch Strap WARRIOR in Sandhurst green.
Elliot Brown on ZULUDIVER British Military Watch Strap CADET in Desert Sand - Credit WatchGecko
The Holton is powered by the venerable Seiko NH35 movement, which requires little new information. This widely used movement has a thoroughly good reputation throughout the industry. It is not the most expensive movement, but it is very unlikely to let you down. Beating at 21,600 bph and with a power reserve of 41 hours it should meet all your accuracy needs.
Sealing the movement away from sight is a bolt-down case back hiding the proprietary shock-resisting system. The bolt-down closure means that the case back is always perfectly aligned every time, and we do like a bit of symmetry.
Conclusion
The Elliot Brown Holton is one of the best military watches available today.
I have genuinely been surprised by the quality of the manufacture and the thought that's gone into the design of this watch. When I saw that it had an NH35 movement, my first reaction was maybe it was a little expensive at £650 but when you actually take time to look at the watch and fully appreciate all the milspec characteristics such as the sunken crown, the bezel, the fixed bars, you realise you're getting a bespoke machine designed by an elite British military unit who know what they want.
The great news is that by buying one of these watches, you can benefit and be a part of this process, getting a truly outstanding military or outdoor watch designed from the ground up to deal with the most demanding environments. So, will I add a Holton to my military watch collection after this two-week trial? That's affirmative!
Case Material - Stainless Steel - with anti-shock
Crown  - Screw-Down. Recessed, triple-sealed
Dial - Black
Diameter - 43mm
Glass - Scratch Resistant Sapphire 2mm Crystal With Anti-Reflective Coating - Impact tested
Luminescence - Super-Luminova C3
Movement - NH35 Automatic
Power Reserve - 41 hours
Style - Dive/Military/Tactical
Thickness - 12mm
Strap - Rubber with solid screw-in pin bars
Water Resistance - 200M(20ATM)
Price: £650