While it may seem cliché, I'm not ashamed to admit that a GMT is my favorite complication. First seen in a Glycine Airman in 1953, the ability to track multiple time zones on a single dial has proven to be highly practical and beloved feature. If you're making frequent phone calls to London or boarding a flight to New York, a GMT has your back. But I am more drawn to the romantic idea of being reminded of faraway places by a quick glance at my wrist.  I've called many places home in my life, and a GMT remind me of the people and memories associated with those places. 
While GMTs are both useful and successful at adding an emotional connection to a timepiece, this feature has long been available only at high prices. Until recently, enthusiasts such as I would browse watches powered by the Sellita SW330, the former king of affordable automatic GMT movements, but only to dream. With many watches powered by this movement coming in at well over $1000, it's a genre I've long been priced out of. Sure, there are cheaper quartz options out there, but there is something inherently magical about an automatic movement. If I'm in the market for a complication I've romanticized, I'll opt for an automatic movement every time.
While I didn't know it, as I lusted over watches I couldn't afford, Seiko was quietly developing a new automatic GMT movement in my price range. And in 2022, they challenged what "affordable" means when they released the Seiko 5 GMT for $475. It's a great watch, but the most exciting aspect of it is the NH34 movement inside. A movement that, like the Seiko NH35 that powers half the watches in my collection, was soon made available to my favorite microbrands.
Nodus Sector GMT Metro - Credit Nodus
I'm not in the habit of starting a watch review by discussing price. Not because it's tacky, but because focusing on MSRP too early is often a disservice. When I'm learning about a new watch, I start by taking a deep dive into the brand's history. This helps me understand why they felt compelled to make the watch in the first place, their design process, and even more technical aspects such as their assembly process and quality control standards. By the time I understand a brand's mission and know about materials used and water resistance, I have naturally decided what the watch should cost. This due diligence helps me avoid inaccurate snap judgments and provides a more accurate assessment of a watch's value.
But with the Seiko NH34 redefining the value equation for an automatic GMT, it's only fair to lead with the price when reviewing the Nodus Sector GMT Metro. Priced around $500, the Metro doesn't aim to follow in the footsteps of the Seiko 5 GMT, but rather to offer a different perspective on what is suddenly possible at this price point. Let's take a closer look at the brand and the watch's specifications to determine if it truly represents a competitive offering in this evolving GMT market.
Regular price

$570.00 USD

Regular price

Sale price

$570.00 USD

Unit price

/ per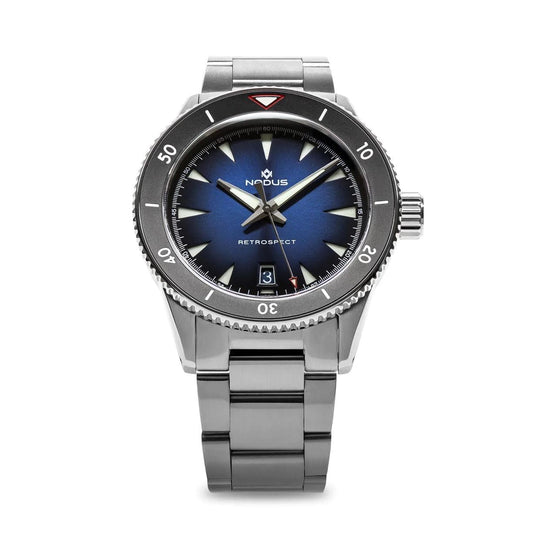 Regular price

$570.00 USD

Regular price

Sale price

$570.00 USD

Unit price

/ per
Regular price

$570.00 USD

Regular price

Sale price

$570.00 USD

Unit price

/ per
Meet Nodus: A Brand Taking the Hard Route to Redefining Affordability 
Nodus Sector GMT Metro - Credit Nodus
Founded in 2017, Nodus is headquartered in Los Angeles and specializes in crafting robust tool watches with innovative designs. They source parts from around the world and assemble, regulate, and test each Nodus watch in their California workshop. This is a noteworthy distinction not only because Los Angeles isn't typically associated with low prices, but also because Seiko NH movements have a reputation for lackluster accuracy. While occasionally you might get lucky with an NH movement running at +0 seconds per day, my personal experience has been that many push the limits of the +40/-20 seconds per day accuracy range. It's the one downside to an otherwise robust and reliable movement, and one that has made me question if I should continue to purchase watches with the movement. However, with Nodus at the helm, I'd have no hesitation forking over my hard-earned cash for an NH34 that has been regulated in house.
Nodus watches have long been on my radar for their unique business model and for the noteworthy value they bring to the microbrand space. They are a brand that is consistently releasing tastefully designed steel sport watches for under $500. I've been impressed each time I handled the various pilot, dive and field watches in their Sector Series, and was thrilled when a GMT was added to the collection.
A New Take on GMT Design
Nodus Sector GMT Metro - Credit Nodus
As new NH34 powered watches hit the market in considerable numbers, I've noticed two trends. First, like other tool watches, they are typically housed in large cases, which makes sense. Because extra clearance is needed to fit four hands under a crystal, automatic GMTs tend to be thick and often feature proportionately generous case diameters to match.
In addition to their heft, these tool watches tend to feature rotating 24-hour bezels. On any GMT, the standard hour hand moves around the dial once every twelve hours, pointing at its own 12-hour track. The GMT hand moves at half speed, taking an entire 24 hours per lap on its own designated 24 hour track. A rotating bezel is a simple way to add the ability to track a third time zone- an idea that excites me as a romantic watch enthusiast. However, sometimes I just want to wear a comfortable, unobtrusive watch, which isn't always possible with the added weight and size of a rotating bezel. Nodus has never shied away from being different. In fact, challenging norms is part of the brand DNA of this American microbrand that insists on assembling and regulating their watches in-house, so it came as no surprise when they added a fixed bezel GMT to their Sector Series.
Despite its lack of a rotating bezel, or more accurately, because of it, the Nodus Sector GMT is as functional as it is sleek. Its 38mm diameter brings an elegant appearance, and a lug-to-lug of only 47mm allows it wear more like a field watch than a typical GMT. Like other watches in the Sector Series, the Metro features full Arabic numerals and high-contrast hands. And, with a slim profile of only 12.25mm made possible by a flat top sapphire crystal (for comparison, the Seiko 5 GMT is 13.6mm), the Metro still manages to boast a capable 100 meters of water resistance.
Deciding how to incorporate a fourth hand and a 24-hour track without making the design feel cluttered can set a GMT above (or below) its peers in the ever-growing GMT market. The GMT Metro continues the motif of sleek simplicity by color matching a blue GMT hand to the rehaut. It's the one pop of color on an otherwise gray watch and brings a cheerful ambiance to an otherwise gray motif.
Brushed concentric circles on the dial offer a seamless transition to outward brushing on the fixed bezel. Lateral brushing can be found on the tops of the lugs where a chamfered edge then leads to a series of polished and brushed finishing on the sides of the case and between the lugs. While it's not the most complex finishing out there, it is on par with other watches in this price range and appropriate for the simplified aesthetic of the watch.
Regular price

$600.00 USD

Regular price

Sale price

$600.00 USD

Unit price

/ per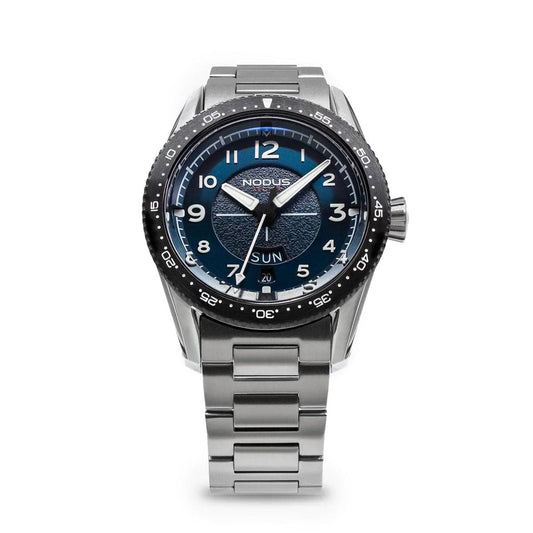 New
Regular price

$840.00 USD

Regular price

Sale price

$840.00 USD

Unit price

/ per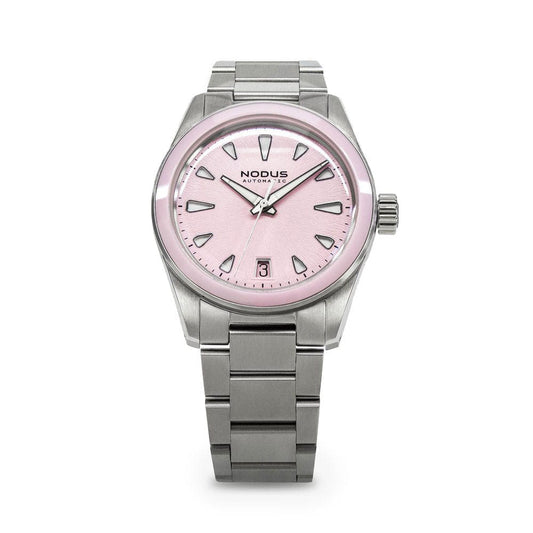 Regular price

$840.00 USD

Regular price

Sale price

$840.00 USD

Unit price

/ per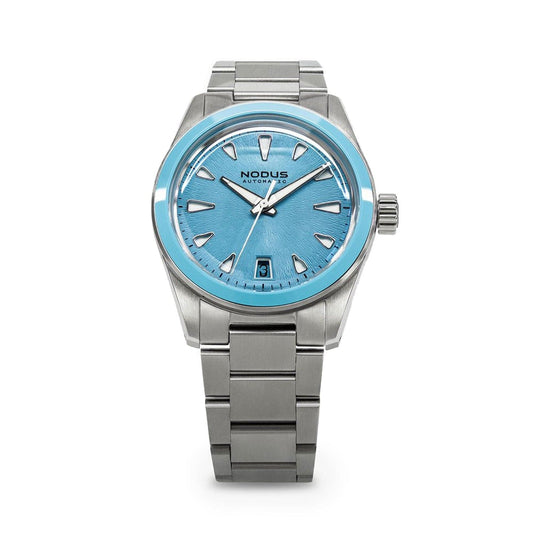 The Metro Proves Less Is More
With due diligence done and having fought the urge to make snap judgements, I learned the Nodus Sector GMT Metro is distinct for what it doesn't offer, rather than what it does. It doesn't offer bold or bright colors that command attention. It doesn't offer a rotating bezel. It doesn't even offer that classic 40mm size that brands and consumers alike flock to. Instead, rather than crafting a watch that checks all the boxes of what enthusiasts ask for, Nodus boiled their design down to what consumers actually need. The result is a timepiece that distinguishes itself from its peers with its subtle and wearable simplicity.
The NH34 movement has opened up new possibilities in the market, allowing anyone to create an affordable automatic GMT. We can anticipate brands continuing to experiment with different ideas, sizes, and styles in this space, and I'm excited to witness the ongoing evolution. Where things stand now, the Nodus Sector GMT Metro has set a high standard for what consumers can expect from a refined, moderately sized automatic GMT. All in all, it's a compelling choice for international travelers, or for anyone who simply wants a unique timepiece to remind them of faraway places.