We at WatchGecko are excited to become an official retailer of Elliot Brown watches and able to offer a range of their impressive outdoor watches on our site. For those of you unfamiliar with the brand, we've put together a little introduction to the world of Elliot Brown.
The faces behind Elliot Brown
Elliot Brown founders Ian Elliot and Alex Brown - Image credit Elliot Brown.
Long-term friends Ian Elliot and Alex Brown share many years of completely unique watch-making skills from the world of extreme sport - and it's this knowledge that forms the bedrock behind their extraordinarily capable watches. Elliot Brown are not like other watch brands. In fact, co-founder Ian Elliot believes they're an outdoor lifestyle brand first and foremost. "Many other watch manufacturers are essentially luxury lifestyle brands," he says. "Whereas we see ourselves as an outdoor brand selling watches".

That statement shapes a lot of who Elliot Brown are and how they operate. Elliot Brown's headquarters is in a working boat yard bordering Poole Harbour in Dorset, on England's south coast. It's a location that makes perfect sense for those who thrive on a coastal, outdoor existence, one based around boards and bikes. It's also heavily influential in their collections. Every collection has its own Dorset reference story and occupies a niche within the Elliot Brown collections such as the Kimmeridge named after Kimmeridge Bay, where the founders have enjoyed time on the water for many years.

It's clear to see that Ian Elliot and Alex Brown live and breathe a coastal, outdoor lifestyle where salt water, sand, mud and harsh knocks are naturally part of daily life, placing huge demands on watches. So when Elliot Brown was formed back in 2013, their ultimate goal was to build the most wearable, affordable, and toughest watches in the world - and to do that, they began testing each watch to its limits.
Hardcore watches call for hardcore testing 
The Round The World Watch Journey - Image credit Elliot Brown.
The company is so confident in the durability of its watches, that the founders took a standard watch out of the box, mounted it to a Clipper '70 racing yacht using nothing more than its standard strap pins and sent it around the world for a year. It returned with a few scratches from ocean debris but kept perfect time and was unscathed by the long-term corrosive effect of saltwater exposure, millions of pressure and thermal shocks hitting every wave, hurricane-force winds with 14m swells and extremes of temperature from the freezing icebergs of the Southern Ocean to the Tropics.
When Elliot Brown launched its Land Rover x Elliot Brown Holton collaboration, stunt driver Jess Hawkins smashed over the watch driving 2.9 tonnes of metal in the form of the new Defender and the watch remained unscathed.
A field watch that's actually used in the field. 
Many of Elliot Brown's models have been produced for and worn by firefighters, RNLI crews, mountain rescue teams and military special forces units.
This is also how the Holton Professional came into existence, specifically the black 101-001 model. The watch was developed in collaboration with a specialist branch of the British armed forces. It's the first new military-issue watch to be created by a British watch company in more than ten years. The 101-001 model has a NATO stock number befitting of its military-issued status. The Holton came about as a natural consequence of Canford watches being worn by members of the military community. Borne out of one of the many charitable military projects the brand undertakes whose recipients requested an Elliot Brown watch of professional calibre with some very specific functional requirements.

The watch's unidirectional bezel needed to be operable with a gloved hand and come fitted with durable easily changeable and comfortable strap options - moreover it needed to be capable of withstanding long exposure to: saltwater, dust, shock, with clear visibility day or night.
Few watches have ever been developed in this way and issued as military equipment. The most famous example probably being the Rolex Submariner 'Milsub', made for the British Ministry of Defence in the 1970s.
Function over fashion
The specification of the Holton is a great example of what Elliot Brown means when they claim their watches are 100% fit for purpose. The watch is designed with a focus on function, and not to follow trends. For example, looking at the knurling pattern of the bezel, you see it has been designed with glove wearers in mind, ideal for divers and hikers. 
The brand's philosophy is clear to see in each of its collections, appearing higher-end than its price suggests and often more original than competitors in the price range.
Some of our favourite Elliot Brown watches
We're proud to also offer Elliot Brown's special collaboration models designed with the RNLI and Mountain Rescue England and Wales, donating £35 of each watch to its charity organisation. You can check out the full Elliot Brown collection here. 
Regular price

$780.00 USD

Regular price

Sale price

$780.00 USD

Unit price

/ per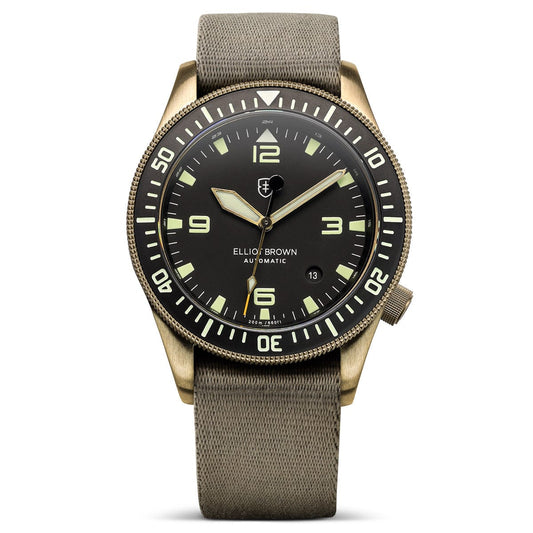 Regular price

$570.00 USD

Regular price

Sale price

$570.00 USD

Unit price

/ per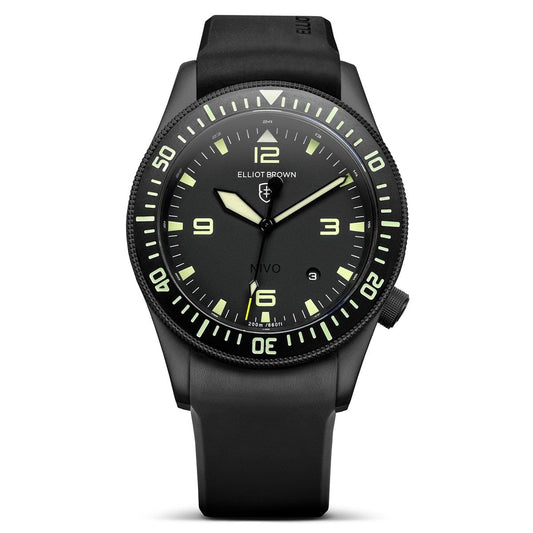 Regular price

$534.00 USD

Regular price

Sale price

$534.00 USD

Unit price

/ per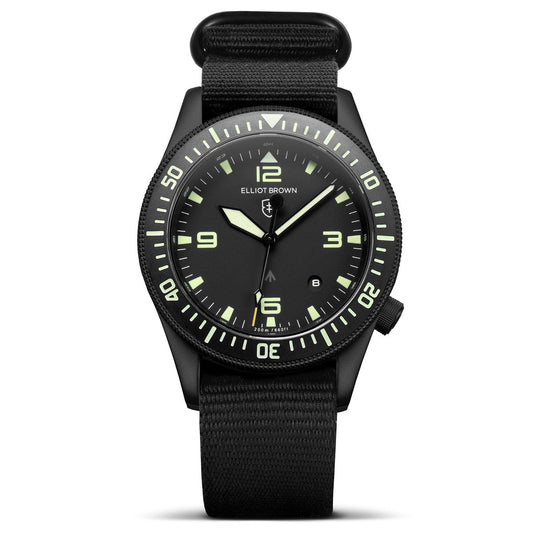 Sold out