Question when is a field watch not a normal field watch?
Answer, when it is a titanium Formex Field. As we have come to expect from this Swiss company they take every genre and totally reimagine it so why would their field offering be any different? 
As we have established on many occasions the field watch is by far my favourite genre so when a brand comes out with something that could best be described as radical there's a tiny part of me approaches it with scepticism. However, being a strong advocate of Formex I was prepared to approach their interpretation with probably more excitement than I would from a lesser watch house. 
Formex Field - Credit WatchGecko
Regular price

$876.00 USD

Regular price

Sale price

$876.00 USD

Unit price

/ per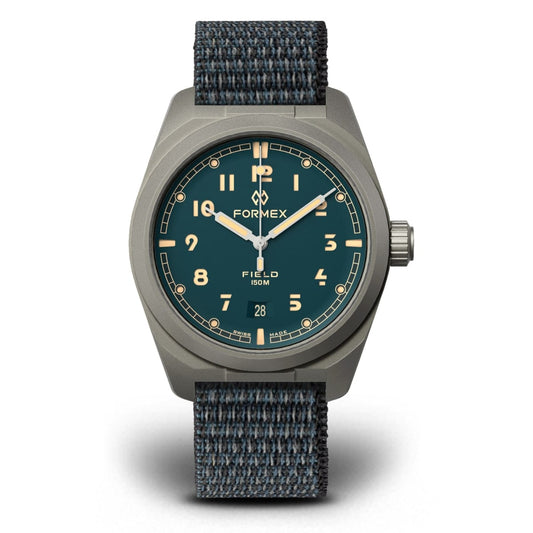 Regular price

$876.00 USD

Regular price

Sale price

$876.00 USD

Unit price

/ per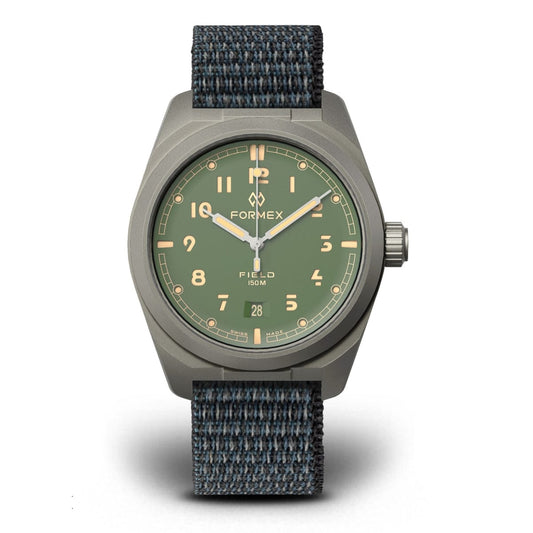 Regular price

$876.00 USD

Regular price

Sale price

$876.00 USD

Unit price

/ per
Sold out
In the world of field watches everything gets judged against the Hamilton Khaki Field range and we can continue this comparison with the new Formex because there is a titanium version of the Hamilton Khaki.  The Hamilton, which is their reference H70545550, looks to all intents and purposes like the normal field mechanical however to enhance the titanium kudos it is 42mm in width and has an automatic movement. It still looks very much like a classic Hamilton field watch and costs a not insubstantial £975.  
We have published many features which cover the history of Formex so we'll skip it on this review and include a link here to one of our other features which covers the background to the company. Suffice to say they represents everything innovative in the watch industry today and are now viewed with huge respect. We consider ourselves very lucky to be the sole UK representative for the brand. 
Formex Field - Credit WatchGecko
Traditionally Formex watches are stainless steel with a solid dive and tool watch look. The current portfolio of the Essence and the REEF show many design commonalities and have a distinct Formex DNA however the Field takes all of this and throws it out the window. 
It is without question a field watch because it meets all the expected design characteristics but, in the (almost) words of a Star Trek legend; "It's a field watch Jim, but not as we know it." 
Available in six colours the Field challenges everything we expect starting with the dial colours. We have a Petrol Blue which is more of a teal, a purple which is called Ultra Violet, a grey which is called Ash Grey, a green (which was my test model) called Sage Green, a deep red which has been titled Mahogany red and finally a black which is more of a grey and has been called Charcoal. 
Formex Field - Credit WatchGecko
Regular price

$876.00 USD

Regular price

Sale price

$876.00 USD

Unit price

per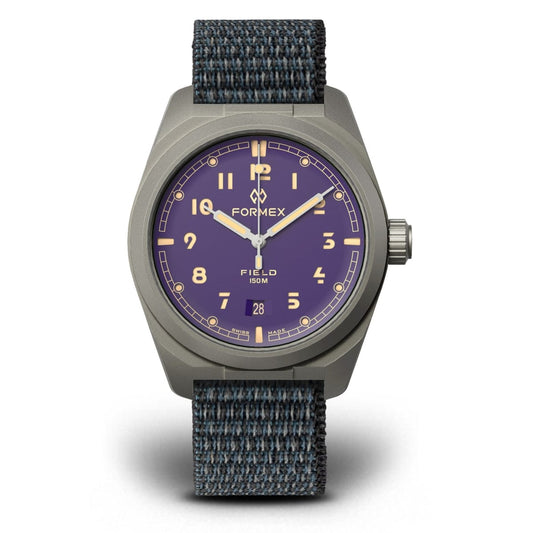 Regular price

$876.00 USD

Regular price

Sale price

$876.00 USD

Unit price

per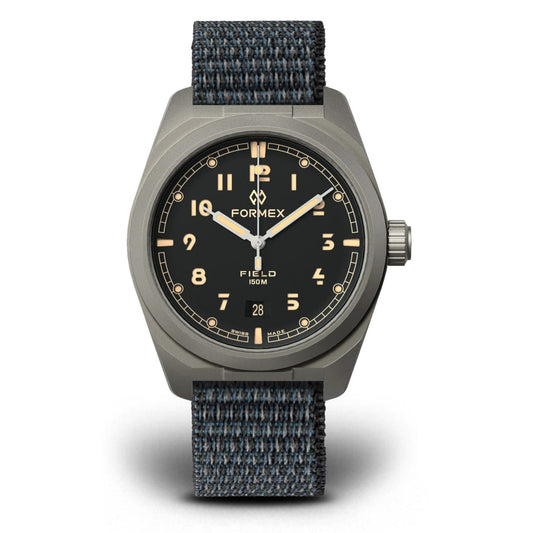 Regular price

$1,068.00 USD

Regular price

Sale price

$1,068.00 USD

Unit price

per
Formex have dialled the watch in a most unusual way with almost militaristic stencil fonts used for the indices which are luminous and recessed in what they define as a sandwich dial. The end result is hugely effective despite the fact some numerals actually have chunks missing. Legibility is superb and the 3D effect really gives the watch the sensation of a piece of navigational or military equipment. 
Syringe hands, which are also heavily luminous, complete what is actually a very simple dial - uncluttered and perfect for use in any light or environment. 
No matter how imaginative it may be, the dial is not the star of the show. That accolade goes to the case which is by anyone's definition unusual. So unusual, in order to fully understand it, I had to make a phone call to Formex CEO Raphael Granito to ask him exactly how the case was made and what their intentions were with the design.
Formex Field - Credit WatchGecko
Rafael informed me the case is grade 2 titanium which is not as strong as grade 5 but allowed them to have a wholly different finish which was critical in the development of the field as a key objective was that the watch must sell for well under 1000 U.S. dollars. To achieve this the titanium was subjected to an unusual sandblasting process which gave it extremely high scratch resistance and a final finish which would very slightly patina and wear with you in the way that a bronze cases do.  
I have noticed this from handling the Sage Field over a couple of weeks of testing and effect is quite beautiful. Rafael also informed me that the case had been subjected to a heightened hardening process for extra durability which takes the base metal hardening rating of 145 Vickers to impressive 900 Vickers. The overall effect they were looking for was, and I quote, "fine concrete" and this has fully been achieved. 
Formex Field - Credit WatchGecko
The second notable element of the package is the strap which is nylon that does not feel like any normal material despite the fact that it has traditional hook and loop fastening. The securing process reinvented by Formex is more advanced than the traditional hook and loop and has a T shape hook which grips more efficiently to the opposite side of the material. The strap is comfortable stylish and will not snag like traditional Velcro straps. 
As you would expect from Formex the entire package is of highly water resistant with a very respectable 150m rating. Powering the Field is a Sellita SW200-1 automatic movement which has 26 jewels and a 38 hour power reserve. 
Wearing the Formex Field has been both a revelation and an educational experience. I can safely say that as of today this test watch has been commented on by more people than any other model I have had home with me. Family, neighbours and fellow watch enthusiasts have all stopped me and asked could they try it on, so striking is the concrete colour of the watch and the wholly radical look. 
Formex Field - Credit WatchGecko
So where does this watch leave us with regards to field watches especially when we consider the Field against the afore mentioned Hamilton. The Formex costs £730 pounds so it is significantly cheaper than the American classic. But price isn't everything and the name Hamilton carries substantial weight so is the Formex good enough to drag people away from the iconic brand? 
In short, yes it is. There will always be people who go for the classic brand but if you are prepared to think outside the box and own a field watch of the highest quality which gives the genre a much needed shaking then the Formex Field is arguably one of the best field watches on the market today.  
I would really love to own one for a couple of years and see how it looks so the plan is to wear this featured model a lot more and report back in six months as to how it's looking. We will also do a strap showcase because with this unusual titanium case there will be some fabulous straps we can match it up with.