Nestled within the picturesque city of Ostend, Belgium, sits the family-operated LIC leather company. The "Leather International Cuir" has been establishing itself as a luxury leather watch strap maker ever since it was founded in 1971 by Yves Thomas, a talented craftsman who had worked for the leather atelier at Hermes. 
Nowadays his son Xavier, also a former student of Les Ateliers Grégoire, took over the management of the company and expanded its international presence, now stocking luxury leather watch straps in some of the most prestigious boutiques in the world. 
Craftsmanship
LIC have a heritage tied to the art of dressing watches, with a passion for beautiful colours and materials combined with exceptional craftsmanship. Every strap they create starts out the same way…
Receiving and checking the leather
Calfskin and alligator are the most common leathers LIC work with, though the stockroom holds a much larger variety. "Our range includes about 25 varieties including some exotic leathers such as python, ostrich, salmon or buffalo to name a few examples", explains production and purchasing manager Xavier Thomas. "Moreover, these varieties are also available in different finishes and colours. We are now also experimenting with apple leather as a vegan alternative." LIC-Leather gets the bulk of its skins directly from French and Italian tanneries, thanks to their long-standing relationship LIC is able to provide an extensive range of leathers in a variety of finishes and colours. 

Punching, splitting, and scaling
A punching machine divides the hides into smaller sheets. In the preparation phase, the leather is also split. "The leather that arrives here has a thickness of about 2 to 3 millimetres," says Xavier Thomas.  "That is too thick. In the splitting machine, the leather is cut in the middle so that we get a leather thickness of about 0.8 millimetres." Then the leather is also scaled. "Towards the ends of the straps we gradually shave off a bit of the leather to get a smooth line around the fur," Thomas explains. 
The assembly
A watch band consists of a top leather layer, a filling, a reinforcement and a lining, usually an anti-allergic leather type. These parts come together in the assembly. They are joined, glued and pressed together. 
The final cut
The straps must now be cut to the right size. This is done with a small punching machine. "We have more than two hundred moulds," says Xavier Thomas. "Our watch bands are available in four lengths and about ten widths between 10 and 24 millimetres." There's a wide variety of styles to choose from, from your typical padded straps to 'Bund' straps and intricately double-stiched designs. 
Stitching and dyeing
The watch straps move to the stitching department. "If you use extra strong glue, in theory, stitching is not necessary," says Thomas. "But it still gives an extra reinforcement. It also has a visual aspect. By using specific stitching, you can also personalise a watch strap. There are watch connoisseurs who recognise a watch by the stitching on the strap." Stitching is done by machine, but at the request of some prestigious brands, LIC also delivers hand-stitching. After stitching, the sides of the straps are lightly sanded and then painted in the same colour as the watch strap. 
Handmade loops
"The making of the loops that are applied over the watch strap is very specialist handwork and involves several of the above steps done by one person in one workstation. This is done by one of our employees that has been part of the LIC family for more than 40 years now" says Thomas.
Now this is a very simplified layout of LIC's production, there are in fact over 100 steps in their traditional process to go from leather hide to finished watch strap. Every step requires gentle manual operations and extraordinary attention to detail. The finished straps are all unique pieces with slightly varying leather patterns, with the team at LIC always striving to offer the best possible raw materials and craftsmanship
The Baranil watch straps are handmade from french 'baranil' calf leather sourced from the famous french Tannery Dagermann. This strap has received a long tanning process using a variety of vegetable, animal and mineral oils for a luxuriously soft finish. The Baranil strap is also available as a padded watch strap.
Regular price

$166.00 USD

Regular price

Sale price

$166.00 USD

Unit price

/ per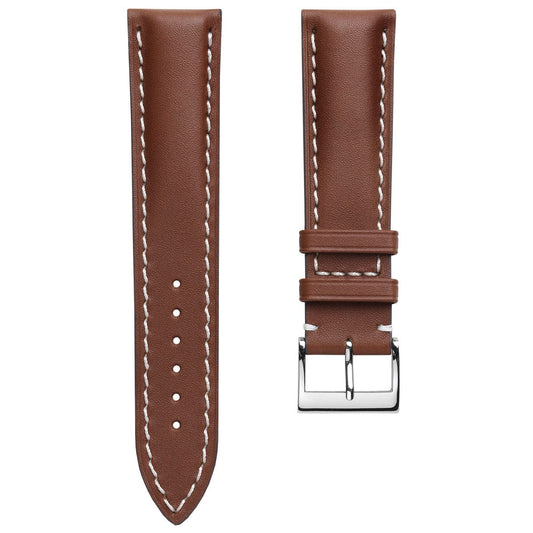 Featuring an iconic perforated racing design made from soft calf leather. This leather has undergone a tanning process using higher amounts of oil. This gives the Boutsen and Ostend racing straps an aged and earthly look perfectly suited to vintage racing chronographs. 
Made from Nubuck leather which has undergone many buffing and sanding treatments, making this rally-style leather watch strap incredibly velvety.
The Mozet strap uses a high-quality Nubuck leather. This leather is known for its velvety texture, thanks to the many stages of sanding and buffing it has undergone. The Mozet leather watch strap is available in a colour-matching stitch or a contrasting box stitch finish. 
The Saffiano leather watch strap is handmade using high-quality Saffiano leather, a goat hide that has been worked with birch oil. You might recognize the distinctive crosshatch texture of this leather as it was first designed and patented by Prada in 1913 and later adopted by luxury fashion brands after the patent expired.

The Leuven strap is made using horse leather that's been vegetable tanned with leaves and olive tree bark, giving the strap a supple grain while making the leather more durable. 
Keep an eye on our premium leather watch strap range as we will be expanding our offering soon! To see our full range of premium leather watch straps click here.