The cultural impact and watches of Miami Vice
In a BBC interview Graham Norton famously praised Don Johnson with inventing the 80s. Of course he didn't mean that Don had unilaterally shaped the decade, more that the cast and crew of Miami Vice had established trends and styles that would in many ways define and influence a generation (myself included).  
If you were a teen on 16 September 1984 there is a good chance you stayed up to watch the pilot episode of a new style of cop show which quite possibly changed the way you lived and dressed. Gone in a haze of pink Armani were the gritty mean streets of 1970s US police shows, swept away by heroes in Ferraris and go-faster boats accompanied by the best music soundtrack you'd ever heard – all in the new medium of stereophonic sound. 
Detectives Sonny Crockett and Rico Tubbs oozed style and as the first episode reached its climax we were treated to an early in-show pop video of the two partners driving an impossibly beautiful Ferrari Daytona Spyder 365 to the heavy beat of In the Air Tonight by Phil Collins. Global audiences flocked to this world of pure escapism where everything about the duo was crafted to perfection. Hugo Boss T-shirts under pastel Versace jackets, no socks and loafers, a cutting edge Bren 10mm pistol, Ray Ban Wayfarers and of course a proliferation of high end watches.
Crockett was always the main watch man and rather than the tactical tough piece you may expect a man in his profession to wear, Don Johnson timed his undercover missions to perfection with the aid of an all gold 36mm Rolex Day-Date 18038 on a President bracelet. A package referred to in the script as "The Presidential". The use of this style of watch helped to remove the characters further from the familiar overworked, underpaid, TV cop with a battered Timex. 
Don Johnson wearing gold 36mm Rolex Day-Date 18038 in Miami Vice. 
Image Credit: Universal
The Rolex "Presidential" can be seen in many episodes and its Miami Vice screen presence helped it to become a critical element of Sonny Crockett's wardrobe and the image the show wanted to present. The only glitch was that the actual prop watch worn by Johnson was generally accepted to be a fake. Indeed Johnson used to joke at the call "cut" he took off the prop and put on a real one. The budgets of the early episodes were low and no one wants their principal actor throwing himself to the ground wearing a $10,000 watch?  Ironically even the afore mentioned Ferrari Daytona was also a replica built on the underpinnings of a Chevy Corvette. Like so much we see in Hollywood early Miami Vice was smoke, mirrors but crucially back in 1984 we neither knew that nor cared. We just wanted a Rolex like Crockett's.  
Mid-80s the show and characters developed and Sonny was seen sporting a new Rolex. As his hair grew longer he transitioned from the full gold Day-Date to a softer Rolex Two Tone Datejust 16013 on a Jubilee bracelet. It worked just as well, was thankfully a little more affordable, and kept the character in the style he was accustomed.  
Over five seasons manufacturers became keen to see their products being used to defeat drug lords in Key West. The programme had gained a global audience of 20 million people at its height and that's a lot of possible customers. Show budgets had also increased so in a perfect storm high end brands now actively sought an appearance in the series. By the time Vice reached its conclusion after 113 episodes the Ferrari Testarossas were real, donated by Ferrari, and Crockett had evolved his watch choice to a very smart Ebel 1911 BTR powered by Zenith's calibre 400 chronograph. The aesthetics were perfect and his choice of watch transitioned the good guys away from the ubiquitous Rolex which was becoming the weapon of choice for Pablo Escobar's henchmen. At 44.5mm the Ebel was bigger than the Rolex but somehow looked smaller on screen. It was packed full of Ebel's unique DNA. The watch was held on during action scenes by a double deployant clasp and the purposeful bezel screws suggested that even if you fell out of a go-faster boat the 100m water resistance would not fail. This was the last watch we saw on Miami Vice as Crockett and Tubbs drove off in search of a mojito at the end of the final episode. 
Left: Don Johnson wearing the Ebel 1911 in Miami Vice. Image Credit: Universal. Right: Ebel 1911 BTR in Gold. Image Credit: Chronosect Horology                                                                                                     
And you could be forgiven for thinking that this was end of our heroes and their expensive watches. But you would be wrong. The producer of the original show and now one of the world's premier film directors, Michael Mann, rebooted the franchise and characters in an underrated 2006 massive budget movie. 
Gone were Messer's Johnson and Thomas now remodelled into Hollywood A-Listers Colin Farrell and Jamie Foxx.  The film did not do well at the box office which was a real shame as it represented a time when Mann was at the height of his talent giving us classics such as Collateral (check out Tom Cruise's IWC). Miami Vice 2006 was ruthlessly stylish and as a fan of the original series I felt it evolved the ethos and made me want to dress in white linen all over again.  
The characters watch choices also did not disappoint with high end brands enduring the most brutal gunfights. No fakes here though, these were the real deal and one can only imagine what state they were in when filming wrapped.  
Crockett moved on from his Rolex and Ebel and now sported a Vacheron Constantin Malte Chronograph Perpetual Calendar. Back in 2006 this was a brand new model. It was in every measurable way a beautiful 39mm platinum watch with double sapphire crystals and a water-resistant of 30 meters. The manual-wind Vacheron calibre movement beats at 18,000 bph giving a power reserve of 48 hours. Probably the screen watch is a reference 47112/000P-8915 with a silver dial and platinum hour markers. Uniquely the watch has a hinged case back which reveals a sapphire crystal lens displaying the stunning skeleton of the VC 1141QP movement. Nice choice Detective although dare we speculate that the watch may have been a seizure from a bad guy? Could a detective, even in Miami, afford a $50K+ watch? Who cares, it looked fantastic and took us back to the heady luxurious days of the TV show.   
The Vacheron Constantin Malte Chronograph Perpetual Calendar. Image Credit: Luxury Launches
Not to be out done Rico Tubbs also favoured a top brand but thankfully far more attainable. He chose IWC. Tubbs wears two models in the movie, both of which together cost less than Crockett's watch. Throughout the film he fluctuates between a Portuguese Chrono-Automatic and an Aquatimer Split Minute Chronograph for combat scenes. With its large bold dial and stark sub dials the Portuguese was the perfect choice to bring MV into the 2000s. IWC were so pleased with their screen time that they released a very limited edition of the watch worn by Foxx, only 50 pieces, which externally looked identical but had the new Miami Vice logo and issue number engraved on the case back. Very questionable tactical value but undeniably stylish. A phrase which arguably sums up the show.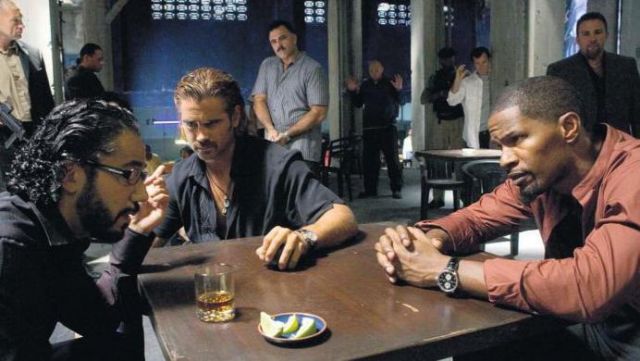 Jamie Foxx wearing the IWC Portuguese Chrono-Automatic in Miami Vice. Image Credit: Universal Studios
The phenomena that is Miami Vice will never leave us. It is one of the most iconic TV shows of all time and Graham Norton was not joking when he speculated that it had shaped a decade. Culturally it is still globally significant and even today, nearly 40 years later, the series and characters look cool. As for Crockett and Tubbs' choice of watches, they are timeless. I listened to Jan Hammer's album "Escape form Television" while I wrote this. It's a compilation of the best music from the show. It must have resonated as now I have an almost insatiable urge to find an 80s vintage Ebel 1911 and make a baggy white linen jacket part of my wardrobe again. I suspect one has more chance of becoming a reality than the other…