5 reasons everyone should own a Military style strap (and how to put on a Military strap). Read our tips and learn how to fit Military watch straps to any watch including watch brands such as...
Think about military hardware that's found its way into the popular consciousness. There's the iconic WW2 Jeep that subsequently inspired generations of 4x4 vehicles. Then there's Karl Elsener's original Swiss Army Knife from the 1890s. Originally designed for Swiss soldiers, but now an everyday carry for millions. And then, more recently, (although its influences go back to Elsener's time) there's the super practical Military Nylon watch strap that so many watch wearers love.
What is a
Military
-style strap? Put simply, it's a practical, military-inspired watch strap that attaches separately to each of the watch's lug bars for extra security in case one of the bars pops out. For much more on Military straps,
check out our

Military Nylon

article where we go into more detail here.
For now, here are five reasons why you should own one (or more) of these versatile watchstraps. And some practical tips on how to wear a Military Nylon strap for maximum impact.
1.
Military Nylon

watch straps offer amazing value

How else can you add another watch strap, and one that is so stylish, versatile, practical and cool, for so little?
Regular price

$22.00 USD

Regular price

Sale price

$22.00 USD

Unit price

/ per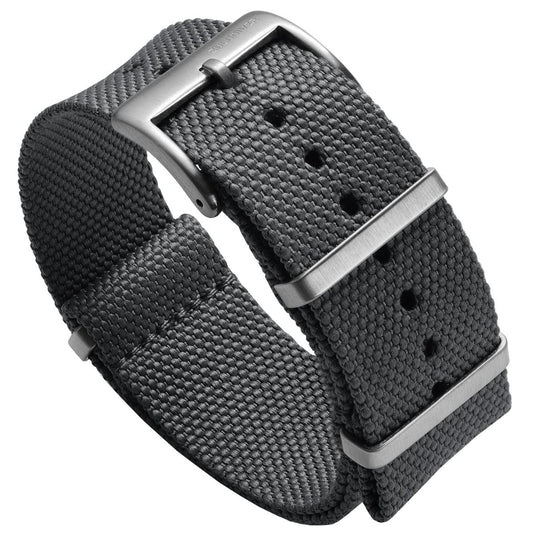 Regular price

$22.00 USD

Regular price

Sale price

$22.00 USD

Unit price

/ per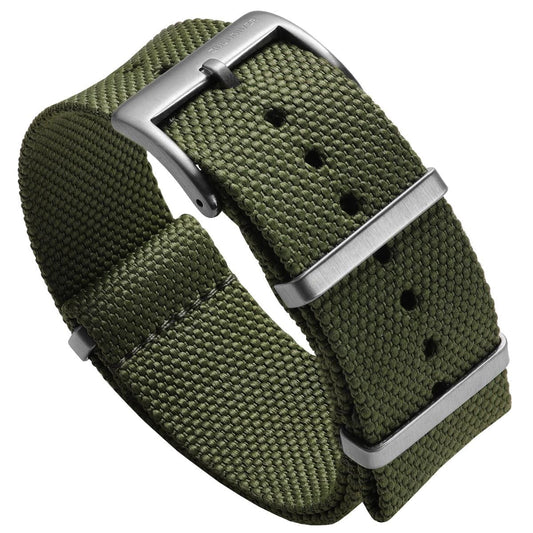 Regular price

$22.00 USD

Regular price

Sale price

$22.00 USD

Unit price

/ per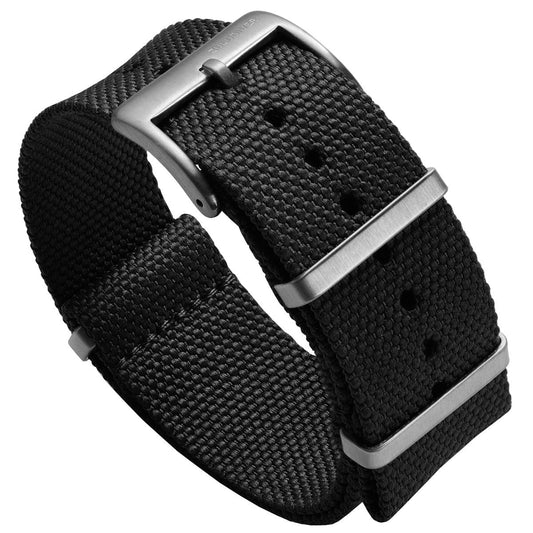 Okay, you could visit your local Omega AD and treat yourself to a five-stripe black and grey nylon fabric Omega Military Nylon strap. You'll pay the price of a very nice entry-level automatic sports watch, but your Military Nylon will have Omega branding. Or you could check out something like the Zuludiver Swiss Style Premium Military Nylon (albeit without Omega signing) and still have over £100 left to splash out on more Military Nylon Straps.
Why's that good? Because, as we'll see later, Military Nylon straps are a great way to make even a modest watch collection look huge and give you even more ways to adapt your look on a day-by-day basis. However, we're getting ahead of ourselves. There's another reason for wearing a Military strap – practicality.
2.
Military

 bands are practical
Regular price

$22.00 USD

Regular price

Sale price

$22.00 USD

Unit price

/ per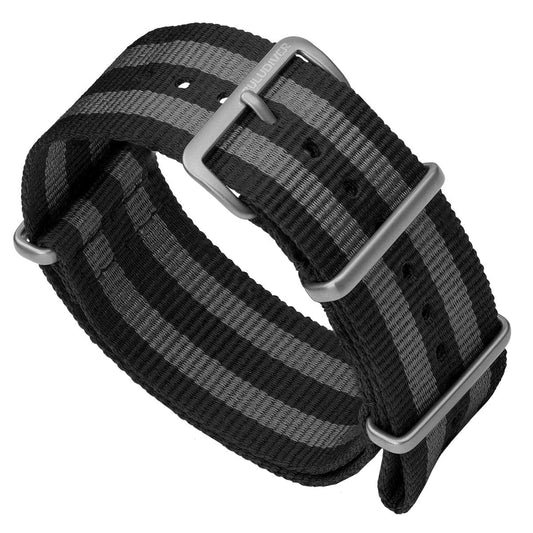 Regular price

$29.00 USD

Regular price

Sale price

$29.00 USD

Unit price

/ per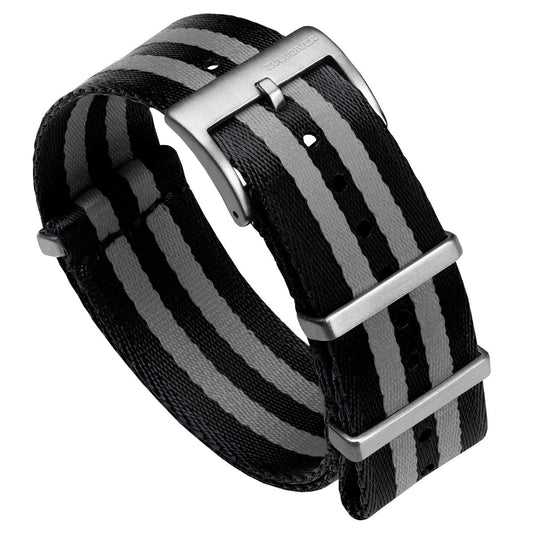 Regular price

$22.00 USD

Regular price

Sale price

$22.00 USD

Unit price

/ per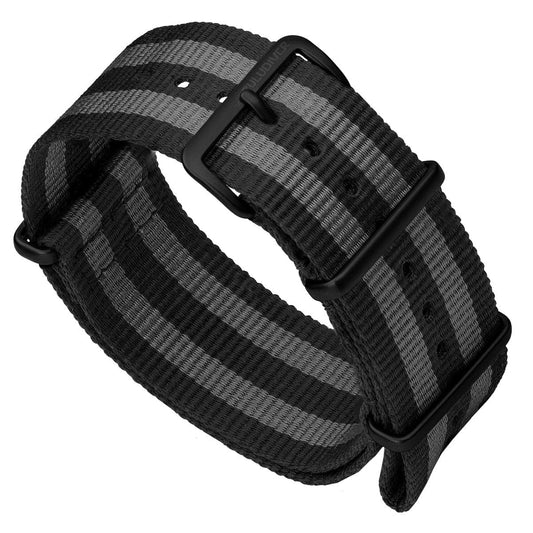 To understand the practicality of the Military Nylon watchband – if it isn't self-evident – we'll go back to the origins of the modern Military Nylon straps in the British Ministry of Defence's 1973's DefStan 66-15. You can read more in our main Military Nylon strap article.
A Military Nylon is a practical utility strap, with an explicit military heritage. Typically, it's made of durable easy-care material. By virtue of its construction, the Military strap attaches separately to each of your watch's spring bars (or, to fixed lug bars if you're lucky enough to own a vintage military watch that's so equipped). The reason? If during vigorous activity, you inadvertently 'pop' a spring bar, the watch will stay attached to the other spring bar. You don't need to yomp across The Falklands or on special ops in Afghanistan for this to happen. If you've ever swung a heavy rucksack onto your back, caught your watch in its shoulder straps and pulled your watch from your wrist you'll know what we mean.
Another characteristic of the now-classic Military Nylon is how they complement so many different watch types and an equally wide range of work and leisure contexts. With, perhaps, the exception of the most conservative workplaces and formal black-tie and tails events, a Military Nylon strap should fit in virtually anywhere. This is particularly so if it's a high-quality Military Nylon with well-finished details.
With that proviso covered, imagine all the scenarios where a Military Nylon practicality and individuality makes sense. Think of all kinds of leisure activities including water sports and diving, and smart casual working environments. And, with a suitable regimental stripe or similar design, more formal occasions too.
In fact, in many cases, dressing down a Rolex, Omega or even a Patek gives an arguably better, more appropriate aesthetic in less formal situations. It's possible to be over-dressed. But impossible to be too stylish! Of course, you have to know how to fit Military Nylon watch straps properly if you are going to wear them with maximum style.
Regular price

$30.00 USD

Regular price

Sale price

$30.00 USD

Unit price

/ per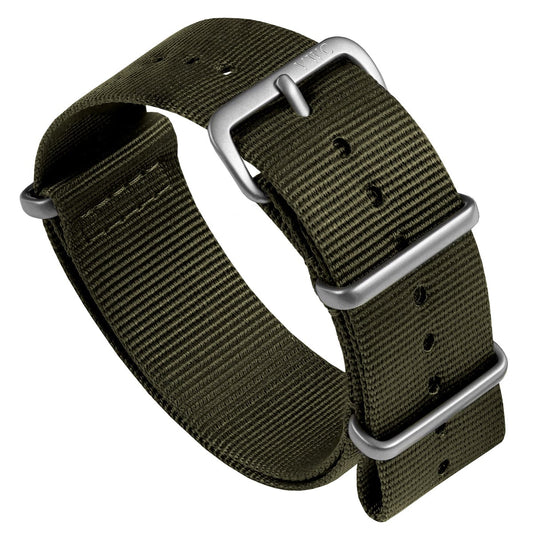 Regular price

$22.00 USD

Regular price

Sale price

$22.00 USD

Unit price

/ per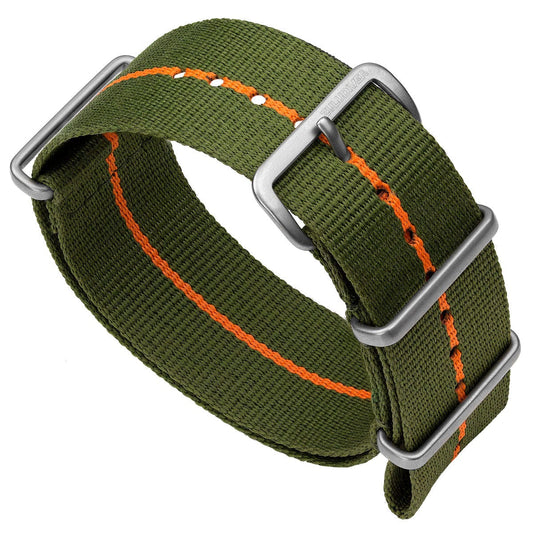 Regular price

$29.00 USD

Regular price

Sale price

$29.00 USD

Unit price

/ per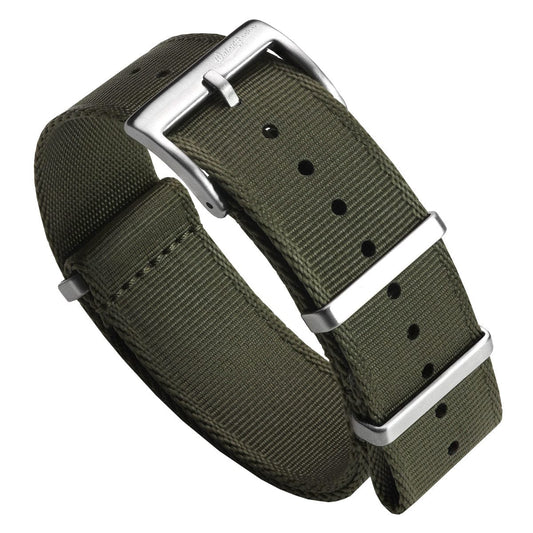 That's where the leather Military straps come into their own. They're subtly different from a conventional leather watch strap, slightly less formal, hinting at your more adventurous side, and still with all the security of the double Military Nylon attachment. For a sublime luxury leather wrist feel, with all the practicality of a Military band, you should check out Military Nylon in luxurious Horween American leather. Horween and Crazy Horse leathers are renowned for their ability to develop a gorgeous 'vintage antique' look when they're worn in, rubbed and scuffed over time. Imagine how one of these straps would look with anything from a Seiko 5 Sports to a Rolex Sub or an Omega Speedmaster.
Whether your watch is a sub-£100 daily beater or a once-in-a-lifetime luxury indulgence, pairing it with a really nice leather Military strap makes for one cool look. That's no surprise because the Military strap has come to be associated with cool, understated functionality over the years – and probably the coolest of movie spies too. This cool factor is the fifth reason for owning a Military strap…
3.
Military

 straps in lots of colours and styles
Regular price

$82.00 USD

Regular price

Sale price

$82.00 USD

Unit price

/ per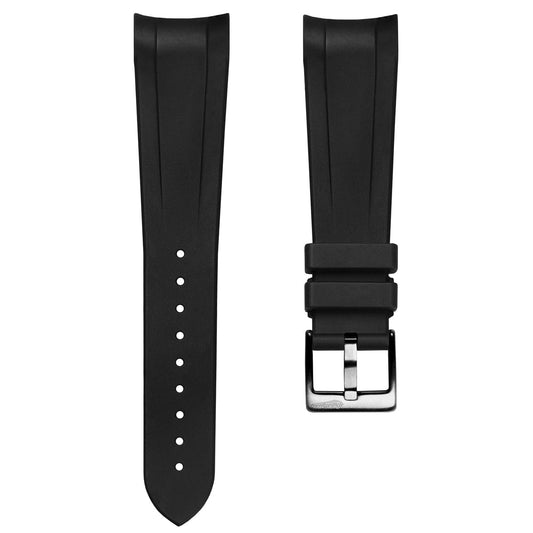 New
Regular price

$120.00 USD

Regular price

$168.00 USD

Sale price

$120.00 USD

Unit price

/ per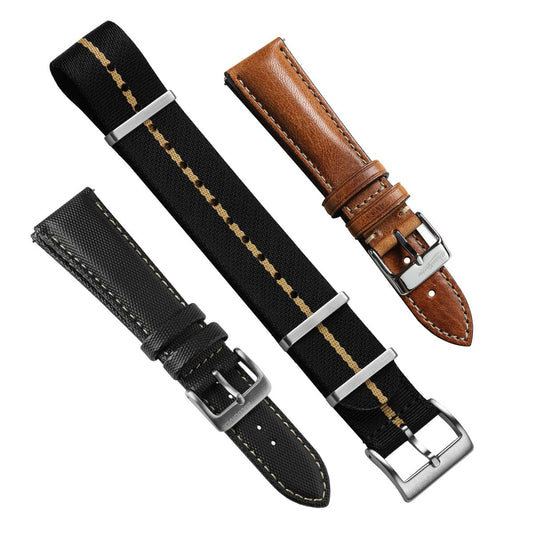 Sale New
Regular price

$58.00 USD

Regular price

Sale price

$58.00 USD

Unit price

/ per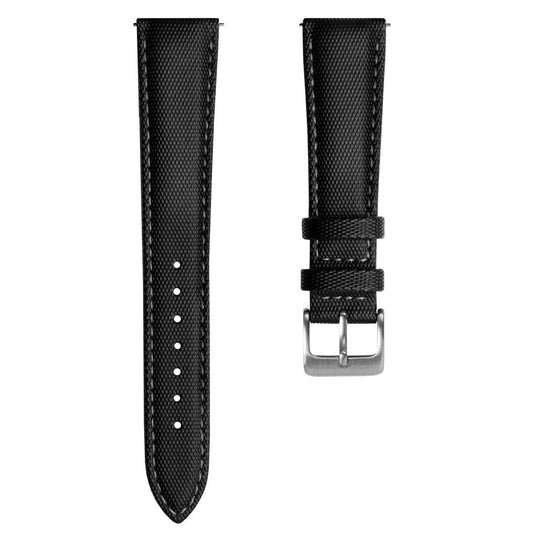 Best Seller Quick Release
The good news is that you can now enjoy the practicality of Military straps in a huge range of colours, and with various hardware details including rounded or faceted profile keepers and different finishes. What's more, as well as a rainbow assortment of plain, striped and patterned straps, Military bands now come in leathers, rubber and Perlon as well as traditional ballistic nylon. As far as we know, there aren't any metal Military yet, but who knows what the future might bring…
Particularly in nylon, Perlon and rubber forms, Military  straps are like that military Jeep we mentioned earlier. At the end of a mission behind enemy lines – or even a weekend camping with the kids – they're so easy to clean off ready to wear into the office on Monday. Rest assured that you will get them dirty, because Military watchstraps lend themselves to action and immersion in water during your adventures.
Because of this, they're a perfect partner for sport, dive and field watches. This is particularly so if you don't want to wear an expensive luxury watch bracelet where the links could get scratched by sand and grit. Or on the inside of your wrist if you're a climber.
Regular price

$876.00 USD

Regular price

Sale price

$876.00 USD

Unit price

/ per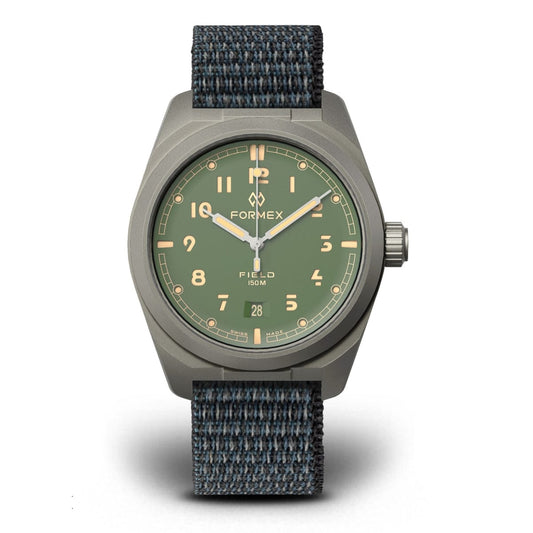 Regular price

$120.00 USD

Regular price

Sale price

$120.00 USD

Unit price

/ per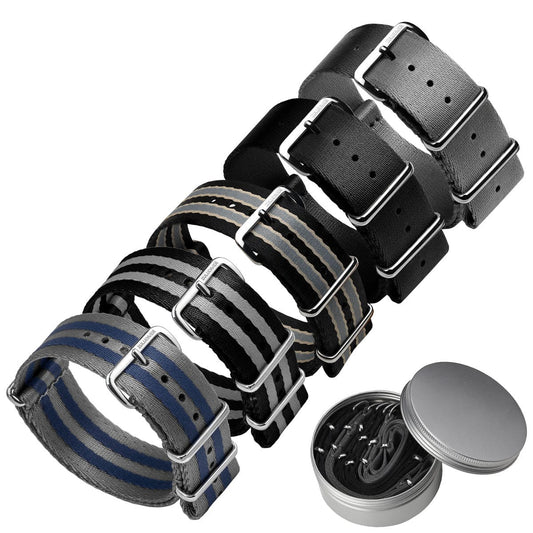 Regular price

$876.00 USD

Regular price

Sale price

$876.00 USD

Unit price

/ per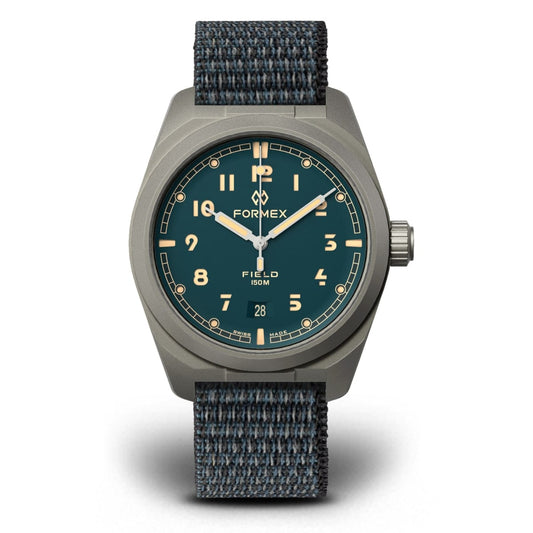 Swapping a standard luxury bracelet such as a Rolex Oyster for a Military is also an effective way to make expensive timepieces look less obvious – to 'fly under the radar' as one forum member suggested. For instance, when wearing your watch in a less than salubrious environment where an oyster would draw attention to your timepiece.
Whether for weekends on the coast or dress-down Fridays at work, stylish, rugged Military straps are a cost-effective way to dress down more formal timepieces, or simply to vary your look with your mood. That brings us to another reason why you should own at least one Military. It will extend your watch collection out of all proportion to its modest price…
4. Extend your watch collection
A handful of Military straps in different colours and materials is a cost-effective way to extend your watch collection. We're not statisticians, but we know that half a dozen watches, their original straps or bracelets, and as many Military creates many possibilities.
As I write this, I'm looking at a yellow-dial Seiko SKX diver, a two-tone blue and gold Gigandet and a Seiko 5 Fuji World Heritage Limited Edition. There's a Vostok Amphibian, an orange bezel Orient Mako, a Steinhart Ocean and a Citizen pilot watch too. None is on the manufacturer's strap or bracelet. Instead, each has been given an improved, or at least a different, aesthetic with a rubber, nylon or leather Military strap. If you can't stand the Vostok's standard strap, or you want a retro look to complement the technology of slide-rule dials and other scales on an information-dense aviation timepiece, a
Military Strap
is your friend.
Military

 straps aren't just for affordable watches

As the likes of Omega have demonstrated by getting onto the Military bandwagon, Military straps aren't just for affordable watches. You only have to look at watch fans' Instagram feeds to see how often manufacturers' or micro brands' Military straps find their way onto anything from a Rolex Submariner to a Patek-Phillippe. Of course, when this appears on the forums, it ignites another of the watch collecting world's perennial debates. This one is about whether an affordable strap on an expensive timepiece cheapens the watch. Although the debates get heated, the answer, as with so many aspects of watches and watch style, comes down to personal taste. And if you're concerned about this, just compare the quality of the best micro brand Military Straps with those of luxury brands. Apart from the signed hardware, you'll struggle to tell the difference.
Regular price

$22.00 USD

Regular price

Sale price

$22.00 USD

Unit price

/ per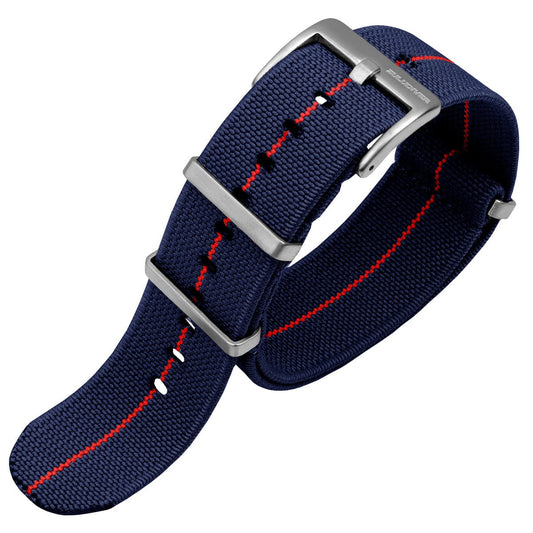 Regular price

$22.00 USD

Regular price

Sale price

$22.00 USD

Unit price

/ per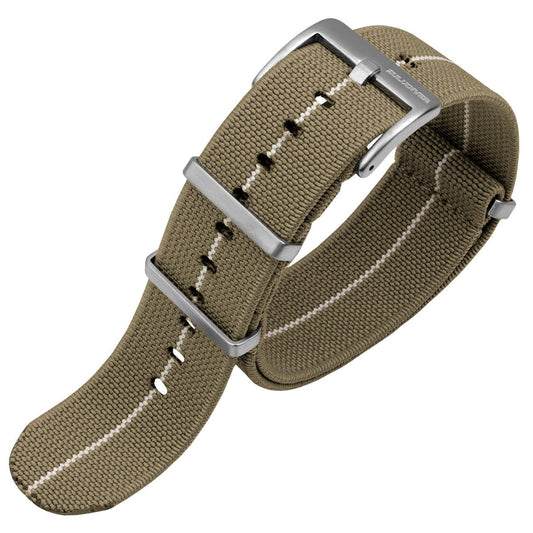 Regular price

$22.00 USD

Regular price

Sale price

$22.00 USD

Unit price

/ per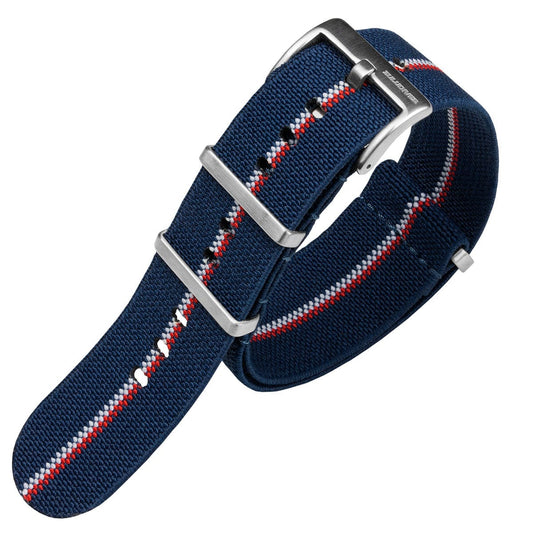 In fact, for many people, putting a high-quality $20 Military Strap on an $80k super-luxury timepiece is actually rather cool. Doing so is similar to the 'inverted snobbery' appeal of wearing better-quality affordable micro brand watches rather than super-luxury brands.
Maybe the irate responses are more about envy for the wearer's ability to sport an expansive luxury watch than any universally recognised rules about what to wear. We say that if it looks right to you and your watch, it is right for you. As you steer your own course with confidence, a drawer full of Military Straps is an important part of your navigational equipment.
That said, understanding basic colour theory and a bit of thought about matching, complementing or contrasting colours between strap and watch head always helps. The brown leather
Military Straps
on my Citizen and Steinhart complements the blacks, silvers and reds of the former, and the latter's 'Pepsi' colours. Alternatively, the orange rubber of my
Zuludiver Bonnetto Cinturini divers'

Military 
Strap works beautifully with the metallic French-blue bezel, and the silver case and dial, on my Seiko Sports. It's no surprise given that orange and blue are diametrically opposed across the classic designer's colour wheel. By the way, for a
Military strap
that many maintain is even more comfortable than nylon in the heat of summer (it won't absorb sweat and start smelling), the
Zuludiver 328

Military 
strap is worth a look.
5.
Military 

bands are cool

As one forum contributor says in a pithy one-line post on Military Straps: 'If you have to ask, you just don't get it.'

We're not going into the Bond Military Nylon strap discussion here. Suffice to say that if you are new to Mlitary straps and don't know what we're referring to, it won't be long before you find out. You can read more in our earlier Military Nylon straps article, but suffice to say now that Sean Connery, the original screen James Bond 007, famously wore a Military Nylon strap on a Rolex Submariner in Goldfinger. Bond is cool: ergo, a Military Nylon strap is cool. So why then, given that genuine Rolex bracelets are intrinsically cool wrist hardware, are Military Nylon regarded as super cool by so many? So cool, in fact, that Rolex wearers will happily swap out the factory oyster for a Military Nylon costing just a few tens of pounds or dollars?
James Bond-style
As mentioned earlier, there's the obvious practicality of Military bands, which relates to another reason for its appeal. Military bands give virtually any watch a cool, military look and 'James Bond style'. The fact that Rolex and Military-type straps share a military connection is also important. The same applies for Omega's Seamaster 300. Several of these, fitted with heavy-duty fixed lug bars, were supplied to Royal Navy divers in the 1970s. By the way, if you need to be stealthy, a rubber or fabric Military bands is quieter than a bracelet...
So there you have it, our summary of five reasons why you should own a Military strap, or two, or five!
Regular price

$24.00 USD

Regular price

Sale price

$24.00 USD

Unit price

/ per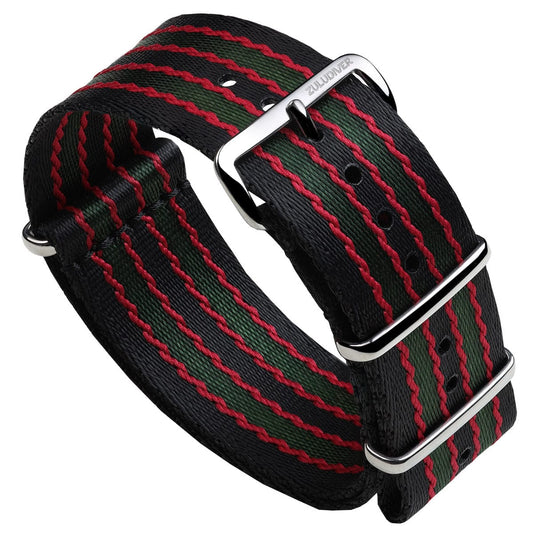 Regular price

$24.00 USD

Regular price

Sale price

$24.00 USD

Unit price

/ per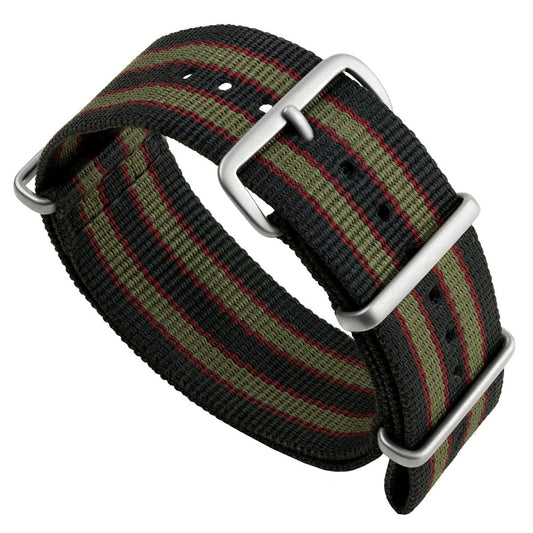 Regular price

$22.00 USD

Regular price

Sale price

$22.00 USD

Unit price

/ per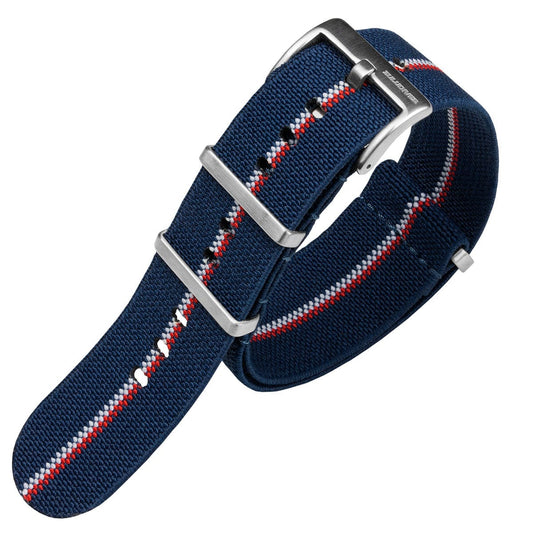 Now you've bought your first Military band and it's time to give it some wrist time. The next question often concerns how to attach the strap to your watch. Indeed, knowing how to attach a Military watch strap, and being able to do so without fumbling, is pretty cool in itself!
How to put on a
Military

 strap

There are several schools of thought on how to wear a Military bands strap. The different ways only add to their ability to expand your watch collection and make a personal style statement. It really is up to you, your personal taste, the way you decide to attach the Military bands to your wrist and the way you tuck in the free end (the tail) of the strap.
Will you 'single' or 'double loop' your
Military

 Nylon

 strap?

Knowing how to fit a

Military

 strap to your watch starts with whether you insert your hand so there's a single or double thickness of strap between your wrist and the watch. Wearing your

Military

 band

 with a single strap thickness (a 'single loop') means the

Military

 band

 sits lower – maybe enough to wear under a shirt cuff – while remaining secure.

With a 'double loop' approach, the most popular way to wear a Military strap, you tighten the tail before putting the strap on your wrist. The watch sits higher, feels most comfortable and is very secure.
Three approaches to managing the strap 'tail'
You can then decide how to manage the free end of the strap. As far as tucking this in goes, some commentators will distinguish between 'classical' and 'contemporary' styles. We prefer to describe this in simpler, functional terms. Approach 1 is to tuck the tail of the strap under both rings, which looks neater and in some people's view makes the whole watchstrap combo look better because the strap sits lower. Maybe this is one to combine with the 'single loop' mentioned above, particularly if you're planning to wear your Military strap under a shirt cuff.
A second approach is to go over the first ring, then tuck the strap tail under the second. There's a case for this being more secure and it may reduce the likelihood of the first ring scratching other objects. There's also a third, less popular, approach, which involves tucking the strap end between the two layers of fabric or leather.
Our suggestions for your first
Military

 straps

Whichever way you choose for wearing your

Military

 bands

, half the fun is experimenting until you find a way that you are comfortable with and which suits your personal style. Soon, you'll be swapping straps and watch heads to discover which combinations work best for you.

And our suggestions for which Military straps to get first? How about a couple of nylon straps (maybe a plain one and a striped one), a decent quality rubber Military strap and one in leather. Remember, you really can't beat Horween leather for its long history of top quality, beautifully comfortable, hardwearing leathers.

What's your favourite style and colour of Military style strap and what do you wear it with? Please tell us below.